The best Tenerife events for the winter season of Christmas and New Year.


Some say that Tenerife events of 2016 and 2017 which don't charge entrance are the best. Others feel that everything which has a price is worth so much more. Another correct answer may be that all depends, you know...
Tenerife concert
doesn't take place in halls with superb acoustics but on simple town squares for free.
Free Christmas concert by the Tenerife Symphony Orchestra OST
Where?
Santa Cruz de Tenerife capital harbor at the Darsena de los Llanos (near Plaza de España)
When: December 25, 2016
at 21.00 at night
Christmas Concert Finale at the Darsena Los Llanos 2013
Recurring New years Eve events in Santa Cruz de Tenerife
The New Years Eve Rave with fireworks on the back square of the Auditorio de Tenerife is already a tradition. So is the one on Plaza del Charco in Puerto de la Cruz.
Then, there are the new years Eve street parties at La Noria the Tenerife party street now Calle Antonio Dominguez Alfonso in walking distance for the Auditorio.
XXX1I classical Music festival of the Canary Islands
When? January 07, 2017
Where? Auditorio de Tenerife Santa Cruz
The 2017 Calatrava Auditorium Christmas musical
Mamma Mia from 27,2016 to January 02, 2017. Its website for musical information
More Christmas 2016-2017 concerts, exhibitions, films and celebrations in the Tenerife capital
Club Azucar end of year 2017 party and many more events.
Address: C/Obispo Pérez Cácerez/corner Avda.Bethencourt y Molina Tel: 619281277
Azucar Facebook info
Restaurants for New Year's Eve
Of course, you can reserve seats inside this beautiful restaurant on the ground or first floor by calling Tel: 922 37 22 47
New year 2016-2017 celebrations Playa de Las Americas, Arona, Costa Adeje, Los Cristianos.
All big hotels of Playa de las Americas have special Tenerife events as well as special buffets for that day.
Tramps the biggest night club disco of the South has its hottest year-end event.
Find Tramps at Avda. Architecto Gomez Cuesta/C.C.Starco - Tel:922792337
Events of Arona for December 31, 2016 are Tropin Deliciosa and Nueva Ilusión as well as Ray Castellano, while local DJs invite to an outside dance Rave. Find it at Centro Cultural Los Cristianos, Plaza del Pescador, 1. All  shows top Playa de las Americas. Phone: 922 761600 working hours only. 

New year's eve events in Tenerife hotels.
All big hotels on Tenerife are bound to have special buffets and celebrations for the last night of 2016.
Most important display of Tenerife nativity scenes.
very unusual nativity scenes.
Admire them on their largest scale of all Canary Islands at the Casa Ventoso nativity scenes on Plaza Consejil by C/Iriarte of Puerto de la Cruz. They portray what the biblical life at the birth of Jesus Christ was like by reproducing entire villages. The show at Casa Ventoso isn't only the biggest but, also the most elaborate and most intriguing of the archipelago and quite likely of all of Macaronesia. The exhibition opens at 10 a.m. and closes during Siesta from 1.p.m. to 4p.m. in the afternoons.
Casa Ventoso folk Concert
December 30,2016, at 20.00 Casa Ventosa folk concert by the ancient School
of the Agustinian order
La Orotava old quarters with Christmas exhibition delights
However, the most impressive Belenes (Nativity scenes) with life size figurines and things are traditionally exhibited in front of Town Hall of la Orotava, where a Belen in the center of the court was added in 2016. Now, there is also one under cover in one of the houses by the square.
lighting church candles,
as is practiced at many Tenerife churches.
Christmas Concerts and entertainment with tickets.
23rd December, 2016 at 21.00 Reyes Bartlet Concert at Iglesia de N.S.de la Peña Francia Puerto Cruz. Price Euro 10
Puerto Cruz Bach Festival 2016-2017 of recurring Tenerife events.
02nd January, 2017 at 20.30 Bach Festival by Reyes Bartlet at Iglesia de N.S.de la Peña Francia Puerto Cruz, Price Euro 15
Information about more dates of the Bach festival
ticket sale at CIT de Puerto de la Cruz, Libreria Masilva y Cloe Complementos. Reservations: mail@reyes-bartlet.com Tel.:922 386 974 or 696 227 636
23rd December, 2016 at 21.00 Reyes Bartlet Concert at Iglesia de N.S.de la Peña Francia Puerto Cruz. Price Euro 10
"Puro Flamenco"concerts for December 21 and 28, 2016
in Puerto de la Cruz at Teatro Timanfaya
Website information about Flamenco in Puerto Cruz
Club Azucar end of year 2017 party and many more events.
Address: C/Obispo Pérez Cácerez/corner Avda.Bethencourt y Molina Tel: 619281277
Azucar Facebook info
Christmas markets.
In fact, the center of craftworks in Tenerife by the very efficient platform called
la Ranilla Espacio artesano
has almost become synonymous with the old quarters of Puerto de la Cruz by the same name.
19th Dec., 2016 to 5th of January 2017 craft Christmas markets in C/Mequinez of La Ranilla Puerto Cruz
from 11.00 to 21.00
Kunsthandwerk
. It is of higher more artistic standard than just handmade crafts. You have to speak many languages and must be an Insider to know such things.
Street folk musicians The appearance of those musicians on Christmas counts already to classic Tenerife events. They take place everywhere on the island. Normally, they do their rounds by 20.00 in all tourist hubs.
Naviteca activities for small children
They entail bouncing castles, tables games and more at Colegio Thomas Iriarte Puerto Cruz from 26th to 30th December and from 2nd-5th of January 2017. Such activities are found in all Tenerife towns around Christmas.
December night market of Tenerife events in the South
Mercadillo of Los Abrigos on Tuesday nights from 6 p.m. until 10 p.m. is also for Christmas shopping.
Tenerife South Christmas events by Arona
Consult what's up by Folk festivals, kids street activities, performances by the Auditorio Infante Leonor of Los Cristianos as well as workshops and special sales for mainly December which includes the villages of El Fraile, Las Galletas, Garachico, Playa de las Americas and of course Arona.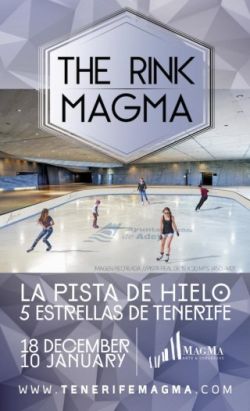 Rink Magma for ice skating at Adeje
Much information on Tenerife events Arona and Adeje for Christmas
here
There is also the Rinc Magma for Ice skating. Puertò de la Cruz had one on a very small scale before.
Rink Magma for Ice skating
Magma Conference Center of Adeje
Avda de los Pueblos
Arona 2016 Christmas fiestas, concerts and more
Arona tourist information including Christmas
Another entrance free Christmas Market is at Playa San Juan with many traditional Christmas crafts on sale the Roscon de Reyes.
The depicted Roscón is the traditional Tenerife Christmas cake. Then there are figurines, toys, sweets, pastries as well as fresh produce.
Different municipalities have their own Christmas cakes, cookies and coated almonds
Tenerife events by Live music
Puerto Cruz Casona restaurant on Plaza del Charco has a pot pourrie of live music at candle light every day at night except on Sundays.
Christmas town
is reborn with all its glamor and mystery. Depicted is the intriguing cobblestone street that runs along the ancient Hotel Rural La Orotava with its elegant decorations of the season.
Abaco classical concerts more popular than ever
The full agenda time table for all
Abaco concerts of 2016 and 2017
Tenerife capital Classical music, operas and solo performances
Free Christmas and New Years Eve shows and similar Tenerife events
Watch the Reyes Magos in the Santa Cruz with more than 100 000 bystanders or in La Laguna where the Cabalgata of the the holy kings is oldest Tenerife Christmas tradition
Alternatively follow their parades in many other Tenerife municipalities
Puerto Cruz Reyes Magos with Cabalgata
05 January, 2017 at 19.00 Bienvenida of Reyes Magos with the Reyes Bartlet choir at Castillo San Felipe Puerto Cruz. This is followed by the Cavalgata towards Plaza de Europa. There, the British School Choir sings Christmas Charols directed by Jessica Patterson
Noche Blanca January event
10th, January, 2017 Noche Blanca Plaza de Europa street dance.
Bonsai exhibition
When? 11th, January, 2017 at 10.00 to 13.00 and from 16.00-21.00 at the Santo Domingo Convent Puerto Cruz next door to the Town Hall.
Puerto Cruz December events by Facebook CIT
From Tenerife events back to Tenerife entertainment much of which is for free
Back to HomePage of the Tenerife holiday home insider
Back up to top?