Carnaval Tenerife Murgas are a must see

Nowadays,
Carnaval Tenerife Murgas
such as the Bambones are the back bone of Carnival celebrations in Santa Cruz of the biggest Canary Island.
Why?
Their stage shows are the brainy part of the mad season. Their satyric songs whose words are highly critical of happenings around the capital, in the island and by its people win the heart of the audience. Sarcasm, irony and sometimes ridicule is used to expose vice, folly and the like. New, often biting lyrics replace known content of famous songs.
A phantom video in cabaret style
Want to watch a phantom video of the winning Murga of last year, before reading on?
The Bambones scored first prize of many competing groups in 2014. Two of their topics namely 'a lost generation' (una generación perdida) and 'those that went missing' (los que faltaban) and became phantoms were much related.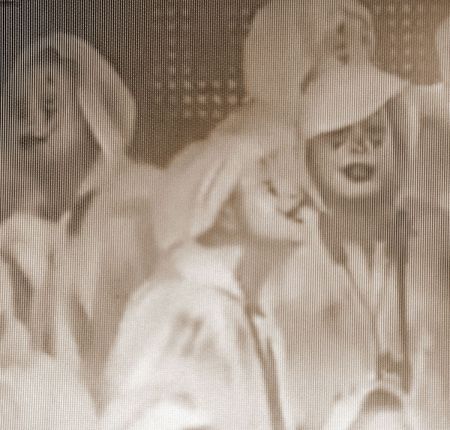 Depicted is one scene of the latter by
Murgas as spooks
which are called fantasmas in Spanish. The music was taken from folklore called El Poema which was made famous by Los Sabandeños. Its speach and drama representation by the Murgas is extraordinary.
There were even ghosts with trumpets. They were striking an accusing tone during Tenerife carnival celebrations.
Others pointed out the 15000 missing dubbed
Los que faltaban
in Spanish. One man has the missing number written on top of his floating shirt.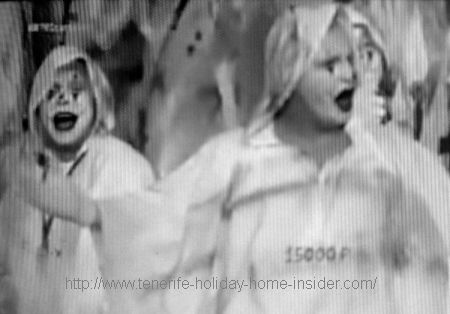 In fact, their numbers and names had gone from the town citizen registry. They had disappeared from Santa Cruz within only one year since January 2013. The proud number of 206593 Chicharreros was no more. Gone to flee into all directions of the globe in search of work and a better life.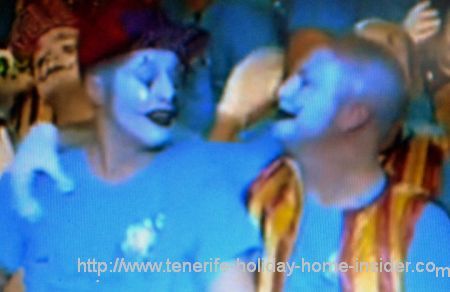 The faces of Bambones which represent
fantasmas
don't only show concern, uproar and grief.
History repeated itself in different form. Now it's economical above all. The grudge was political in Francos days. It took until the Seventies when Carnaval Tenerife Murgas took to the street with full force. That's when commerce was able to start to sponsor them thanks to tourism. That was about 40 years ago.
Not to forget to mention is the legendary Enriques Gonzalez the Flaco of Nifu Nifa the Fufa made history for Murgas too. Enrique was wearing spectacles if I remember well.
Depicted is another Bambon
Murga with glasses.
Mind there are at least 50 participants and each has its own personality.
Why are Carnaval Tenerife Murgas similar to cabaret?
A good presentation of this type isn't just titillating according to the London cabaret beginners guide. It is transgressive, upending everyday ideas about art, politics and sex, provoking as well as pleasing. Social criticism hardly knows bounderies.
Indeed, this is the case with carnival Tenerife and its Murgas but, it's not outright offensive or vulgar. Also, Gods or prophets are not criticized. Murgas deal with issues by their own door steps which means their capital Santa Cruz or its island.
Again one more video topic of the Bambones It's all about the petrol Rafineria Santa Cruz and the title is: 'There are love affairs that kill' (Hay amores que matan)
Their display is very intelligent, very natural and is therefor outstanding. The choreograpy of movement and singing is artistic without stiff or artificial acting or pathos. Needless to say, the best may render the public euphoric. Quite an achievement for Carnaval Tenerife murgas with a huge hall of the Recinto Ferial Congress Center where they perform...
This is why Comparsas, Rondallas, carnival costumes and floats only would not be enough for the fancy dress season.
The indirect power of the Murgas in commerce and in politics
I've just learned recently that some group of Murgas whose name wasn't mentioned had great political influence, a few years ago. Their strong words by way of songs against the commercialization of Playa de las Teresitas had a powerful influence that helped to prevent it.
From Carnaval Tenerife Murgas back to Tenerife attractions carnival
Please mind that the comment box below is meant to help others. In case you have a question or want to tell me something, kindly use this contact form.

Back to HomePage of the Tenerife holiday home insider
This site is protected by Copyscape