La Montaneta de los frailes a volcanic cone for walking Tenerife.
La Montaneta de los frailes or Montana del fraile is of  volcanic origin. In 2016, it was about 600 years old, as per Guanche hearsay. It's part of the region of Los Realejos but almost borders Puerto de la Cruz as well as La Orotava.
It's a prominent focal point within the Orotava Valley.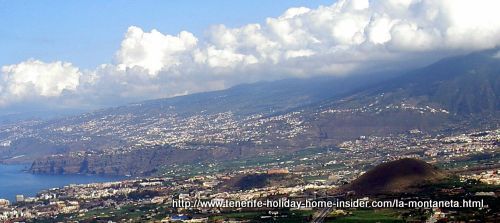 It's a most unusual green volcano thanks to moist Elysian winds.
  

Depicted are its West slope which may be accessed from Calle La Higuerita of the hamlet El Jardin.
    Ferns grow on it but also huge fields with the Paris daisy, wild Lavender and more. 
The abundance of plants render the small mountain so pleasant for walking in Tenerife.  This volcanic cone  with its ellipsoid, closed crater has been a natural monument since 1987.   Also,  it's one of most unique world volcanoes, as it's privately owned. Its 25,7 hectares belong to Columbus S.A. of Puerto de la Cruz. However, it's free to visit for climbing for everybody. Read on to discover more of its surprises.
Where the name of the small volcanic mountain comes from
In the 18th century, Friar Antonio a lay priest from La Gomera bought it and accommodated other Augustine monks from the region, occasionally.
What makes it an exceptional stratovolcano for climbing?
A cone height of only 371m with a most prominent roundish shape of 300m diameter
Easy to find on the TF5 freeway at exit La Montaneta and then via the TF 333 road
North of Meson Monasterio where walkers gather
An easy to access path of 571 m from the North of Meson Monasterio. From there past la Finca of the same name to the peak of the natural monument
The Via crucis which starts in a stunning, man made park with xerophytic and other plants
Eight stations of the cross provide pleasant climbing breaks on the rough volcanic mountain road.
Magic panoramic views almost all along the way with Mount Teide on the horizon
A last steep ascent before the summit of the green volcanic cone where a walking stick is a must

Again no trees, but only low growing shrubs and cushions of Canary Island daisies along the horse trail. Finally the climb ends on the mountain top with magic views all around.



    There are folk dances  by this little temple during the Fiesta de la Cruz on May 4 followed by big fireworks. A Romeria with floats and horses also takes place.


More options from La Montaneta de los Frailes

Meson El Monasterio restaurants and a so called Monastery shop on one of its mountain slopes for the ideal break after the climb
Farm grounds Finca El Monasterio with an orchard, animals, poultry, fish and aquatic turtles for all to enjoy
Parking grounds, bus stops and taxis nearby

History of la Montaneta de los Frailes

It erupted together with two others around 1430, as was told by the Guanche. The extremely fast pyroclastic currents of the eruptions added to coastal expansion. They left volcanic layers, most of which formed Puerto de la Cruz.

The first owner of the mountain of the monks after the Guanches was the lay priest friar Antonio from La Gomera.

He bought it as Montana de la Luz in 1771. He built a small Monastery with a Bodega and wine cellars on its east side. He also added farm buildings for live stock. Friar Antonio who was friends or did business with Augustine monks of Los Realejos and La Orotava died in 1811.

In 1826, the farm of La Montaneta de los Frailes was a place of refuge to monks of the region as well as to others. This happened during the worst storm and floods of the history of the Canary Islands. Casualties of men and beast were very high during this fatal Hurricane Bethencourt y Gonzalez when the Montaneta with its Monasterio was a safe place.

From La Montaneta de los frailes back to Los Realejos.

Credit is given to the Spanish PDF of the government of Los Realejos for facts regarding the Natural monument Montana del fraile of Realejos.

Los Realejos municipality info on la Montaneta

More photos of endemic flora of the volcanic cone of the monks

Fauna at the natural monument of the monks

Falcons
Bees
Butterflies
Goats were kept on this mountain by the Guanche but none are seen now







Please mind that the comment box below is meant to help others. In case you have a question or want to tell me something, kindly use this contact form.


Back to HomePage of the Tenerife holiday home insider

This site is protected by Copyscape