Use the map for Bollullo for getting around by several ways.
Click the map for Bollullo, as depicted above, to see better by its enlarged version...
In fact, there are many ways to read its options.
The graphic to help you getting around to Bollullo is actually also the best map to find Café Vista Paraiso. Of course, it also serves to get to the hamlet by the same name.
What possibilities are there to get to Bollullo?
Via Titsa bus from Puerto de la Cruz to Cuesta de la Villa
Via Titsa bus from La Orotava to Cuesta de la Villa
Walking from La Paz by taking the Banana trail
behind hotel Semiramis, near Supermercado SM 2000 Spar.
Driving to San Diego bar above el Bollullo to continue on foot
before paying a small parking fee.
Driving on the TF 5 from Santa Cruz or from Puerto de la Cruz to Cuesta de la Villa and exit km 31 by TF 117 towards Cuesta de la Villa /La Orotava and then parallel to the freeway along C/Vista Paraiso.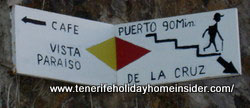 The road C/Vista Paraiso turns right. Then you take the trail to the coast on your left at number 15 opposite the path finder.
Feel free to try out other ways, as clearly indicated by the road plan for Bollullo. In case you missed it proceed the Café at no.21 and turn right after leaving it. Stay on the level road and look out for no.15 on your right beside a big white metal garage door or gate. The next option would be to proceed to the right from the same trail, instead of going to Playa Bollullo. Playa Arcó is on your right.
Just now, enjoy many photos of the surrounding Tenerife paradise country to see what the region by Bollullo is all about.
From map for Bollullo back to maps of Tenerife, some of which make yourself.
Please mind that the comment box below is meant to help others. In case you have a question or want to tell me something, kindly use this contact form.

Back to HomePage of the Tenerife holiday home insider
This site is protected by Copyscape