Six top reasons to have Tenerife Arcon Tapas food

Arcon Tapas is a Puerto de la Cruz restaurant in the town's hub where no cars are allowed. The many guests on its street terrace show it's very popular. However, you are not served typical, tiny mainland Spain tapas, as used to be the norm at this Spanish Tapas place. The portions are slightly bigger.
News December 22, 2019
Arcon with its Tapas is back in business.
Why? Many months of roadworks by its doorstep in Calle Iriarte by Torre Ventosa had a very negative affect. Last not least, all is finished. The Plaza which is now a much bigger town square has been remodeled with new benches and landscaping, such as palms and Australian tree ferns besides Crotons etc.
Arcon means Tapas food of Tenerife cuisine where Papas Arrugadas (wrinkled local potatoes) with spicy or Coriander sauces are always on the menu.  
An enchanting location to eat outside in a paradise setting.
Encounter this small eating establishment on one of the oldest and picturesque town squares by the ancient mansion Casa Ventosa of one of the town's fabled Irish merchants. Eat out there in the middle of the hub while you smell nearby roses, daisies, lilies and other flowers.   Large trees nearby fan the warm summer sun at noon and give partial shade.
The six top reasons to eat out at Arcon Tapas Tenerife
Tasty traditional Canary Island cuisine with Tenerife Tapas
Good local wines available
Only five minutes on foot from Plaza del Charco
Quiet, unpolluted garden style surroundings
Slow food served fast with a smile during 11 hours per day
Reasonable prices
Arcon Tapas restaurant's address
Plaza del Pozo alias Concejil, 2 in Calle Iriarte
38400 Puerto de la Cruz
Tel::922 375131
Opening hours every day from 12.00 noon to 23.00,
while closed on Tuesdays
Why we selected shellfish and stir-fry seafood.
It was highly recommended to us by French tourists. They were busy eating it when we arrived at this Puerto de la Cruz Tapas restaurant.
Depicted below is this seafood.

The one is called Mejillones Arcon (Mussles Arcon) and the other is Revuelto Teide Atlante. (Stirfry Teide Atlante)
Portions were medium size with bread on the side as a  filler.
We had at least two glasses of Vino Blanco de la Casa (white wine of the house) which was good.

The mussels shellfish Mejillones Arcon came in a subtle Vinaigrette with garlic and herbs.

The stir-fry with shrimps, bacon, mushrooms and garlic was combined with a delicious sauce we couldn't quite figure out but the result was delicious.
I don't remember exactly what we spent for the two of us but,  it amounted to less than Euro 30.
Any must see near this restaurant?
There is the antique Colegio de la Pureza on one street corner by Plaza Concejil.  This former college of typical Canary Island architecture with a plant filled indoor yard is now an old age home for men. The museum of the brothers Iriarte opposite has closed its doors for renovations.

Casa Ventoso the neighbor of the Plaza Concejil Tapa restaurant is a must see in December and January. Then,  Casa Ventoso has concerts and displays famous cribs. Contrary to museums, no covid vaccine pass was required during its exhibitions of 2021-2022 Christmas season. 
By the way, there has been a "For sale sign" attached to the front of the Arcon Tapas restaurant in February 2022, in case you want to quickly enjoy its food, while the going is good with the original owners.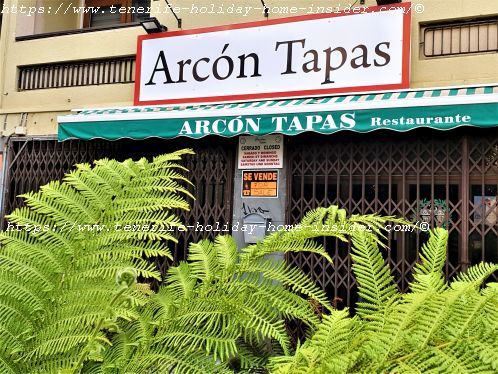 Tenerife restaurants Arcon Tapas food Puerto de la Cruz for sale
Combine seeing these beautiful
Christmas Nativity scenes next door to Tenerife Tapas
at Restaurante Arcon.
From Arcon Tapas back to Tenerife restaurants
Kindly scroll a little further to comment for Facebook instead?
Please mind that the comment box below is meant to help others. In case you have a question or want to tell me something, kindly use this contact form.

Back to HomePage of the Tenerife holiday home insider
This site is protected by Copyscape