How Carmen Amaya wall art had such an impact.
Carmen Amaya was not what I expected when I was looking for a craft shop in the Puerto de la Cruz Ranilla.
Searching for something and finding a treasure
It was art in this case and, an amazing legend.
Wall art that enhances a landscape in magical ways
Somebody gave me some indications to find this store. I had to change direction, as something didn't tally. Suddenly, a huge image struck me from a distance of about 30 meters.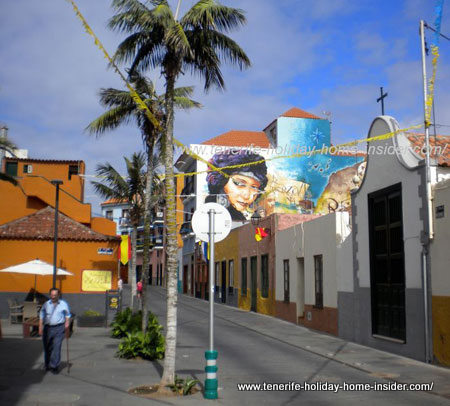 It was
best street art
.
Why?
It blended in so superbly with an urban landscape of a fishing village. It gave it the human touch besides the occasional people that walked there. The buildings in egg york yellow, pink, white and blue were a perfect frame of colors. The whole set-up struck me from a distance of 30 meters in the street C/Mequinez of Puerto de la Cruz.
The impact was breath taking.
I saw its highlight of a woman's face before but, unfinished, I think. It was mentioned with 'arte urbano' in a Spanish newspaper. I wasn't much impressed by it at the time. I discarded it as trendy aesthetics and lost interest. Also, I never searched for it when I didn't see it on tour through the old quarters which I always pass when I walk into town.
Carmen Amaya in street art?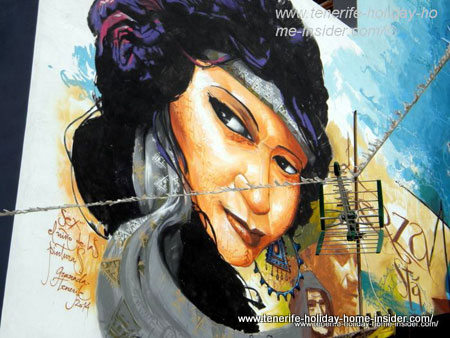 The face that pulled me closer had Latin features. There was Bohemian allure, too. No, not only the dark eyes of serious expression were attracting. Perhaps, it was also the way the sunlight played surreal tricks about seven meters above the ground on a colorful painting that touched me so much. Indeed, more facial drawings of amazing fine art were added on the rest of the mural in smaller details. Inscriptions which are the signatures of general Graffiti were also there. Nothing said Carmen Amaya on the painted wall.
Art should pose questions
In this case an answer was missing as to whom all this was dedicated.
The signature which complemented this typical Spanish art
arte urbano
(urban art) which was paid for didn't give all the answers.
The woman was a stranger to me. She was clad in modern attire.
But who was this female with curly blue hair and a trendy shawl? Who was she who was the focal point of an artistic composition with riddles?
The face seemed to look into my soul. I was so taken, captivated, mesmerized and also curious. I had to trace that personality. Imagine a face that perturbs you like a ghost but, in plain daylight...
Another street art with Carmen Amaya in Granada
I knew the painting in Tenerife was Spain art by the street artist Raúl Ruiz called 'Niño de las Pinturas Granada' who started off with Graffiti and became even famous abroad. I researched latest news about him. I found an entry of a court case. It was about so called Graffiti with an Egyptian goddess. It was removed. However, Raúl won the case, as his work had been paid for by the owner of a bar.
Now, Carmen Amaya became the theme of the mural. The image matched the one in the Tenerife Ranilla with the face which I couldn't get out of my mind.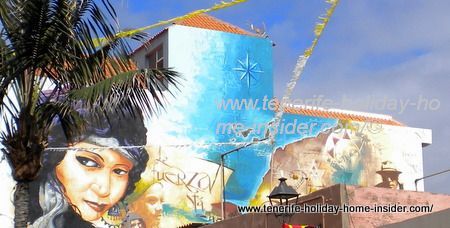 Also suddenly, this wall painting became
meaningful art.
Now, all its intriguing details of a previous puzzle fell into place. The wall art by House 'Casa de Doña Florentina' made much more sense after I had watched the following video. This was more than a renown episode of Flamenco music and Carmen Amaya of the XIX century. It added to Spain history in Tenerife.
Video with Carmen Amaya dancing
Indeed this gitana ( gypsy) who was a native from Barcelona like La Singla who came after her was the greatest Flamenco dancer of all times and is a true legend today.
Last not least, there is something in Puerto de la Cruz old Quarters the Ranilla where also find more information about the artist who paid homage to this unique dancer and amazing Spanish folk music.
Also memorable for Flamenco is La Singla
I always thought phenomenal Antoñita la Singla was Spain's main Flamenco legend. La Single was deaf and dumb until eight years old. Then, she suddenly managed to talk very slowly. Nevertheless, she was already excelling by Flamenco dancing when very small. How? She felt the vibrations of the music and watched the guitarists move the strings. I saw her fabulous performance in Frankfurt/Main Hoechst, about 42 years ago by 1972.
Unfortunately, I shall never see live Flamenco by Carmen who left the world on November 19, 1963.
I've just changed my complimenting link, as you may want to know as much as possible about this Spanish dancer who was fervently admired by Greta Garbo, Charlie Chaplin, the US presidents Roosevelt and Truman and many more celebrities of century XX. The best biography I discovered about her is by Carlos Olalla and it's called "Carmen Amaya el mar me enseño a bailar", but it's in Spanish. Then, there's a Wiki here









From Carmen Amaya back to Spain art much of which is outside galleries.
Please mind that the comment box below is meant to help others. In case you have a question or want to tell me something, kindly use this contact form.

Back to HomePage of the Tenerife holiday home insider
This site is protected by Copyscape