Finca del Arte now La Finca Chayofa without art.

 Finca del arte's stunning art gallery is history now because,  its owner Wolfgang Egger died in 2012. The tall German of much charisma seemed to be a healthy man in his fifties. In the past, the Tenerife holiday home insider loved to savor delicious cake there under a large shady tree after browsing the art gallery. She learned about a drastic change from the  management of the new owners, way back in 2014. That's when she was told that her friend could not exhibit her paintings there, any more.
What reminds the former Finca del Arte ?
The looks of La Finca which once featured art exhibitions has changed very much. However, the two Pride of India trees are still there. So is a huge, light tree trunk of intricate carvings that serves as a bench. It still stands at one end of "the same old terrace". Note that the lower, sunny terrace section is now fenced off partly. No more views to the mountains, by the way.

Address of La Finca Chayofa
Calle El Taroso,43 bordering Calle la Flora with parking nearby
Chayofa 38627 Arona
Tel: 0034 619 960 539 or 691 284 944
or 0034 + 638 204 093
Where meat excels, not art
On first of December 2016, a friend and the Tenerife holiday home insider had a sumptuous afternoon lunch there. 

The Leg of lamb Cordero La Finca which was ordered by the friend was absolutely superb. 

This meat may become a culinary legend. A genuine trophy of the important art of cooking.  Only the bone was not eaten.

Bottles of exclusive oil and vinegar stood on the table. No need to open them...

The tomatoes made ideal starters with a delicious sauce, already.

A fillet of Cherne Stone Bass was ordered by the Tenerife holiday home insider.

It was good, except for a tiny end peace. However, it's known that that part of "Cherne" Stone Bass has an extremely strong fish taste near its head. That's not liked by everybody.

Some extra brazed vegetables in season were an additional Canary Island cuisine dish. Its fried red pepper was most tasty.

The red and white wines of the house by Finca del Arte alias La Finca Chayofa are recommendable and not expensive.

Desserts were mostly of the commercial type.

Finca del Arte desserts
In the past, desserts served by the art gallery were pretty much like today at La Finca Chayofa. However, it needs to be confirmed that cakes are still as good.
The Coulant de Chocolate a hot chocolate cake served with vanilla ice cream by la Finca Chayofa was delicious.
 The Tarrina al Whisky with cream came straight from the freezer. This made this sweet hard like rock. Any taste of liquor was lost.

Table barbecue only with double portions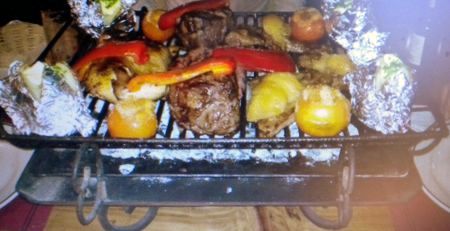 This
table barbecue
the photo of which is courtesy of a large
international review portal
speaks for itself. The grill is made of sturdy wrought iron and it's of a generous size. Not only meat but also potatoes, onion, sweet peppers and vegetables grown on the spot find space on it. The charcoal as well as the food are provided for you to cook.
Our restaurant bill for two.
Skipping the extra plate farm vegetables which were not needed would have bought us more drinks instead.  Anyway, the total bill for 6 dishes with wine and additional water was Euro 47 inclusive tax.
Absolute value for money for Tenerife eating out...


Other looks than former Finca del Arte.
No more art exhibitions adorn walls or floors inside. There are some black and white photos of the region.
The interior of the building looks like an event party room.
There,  tables and chairs of festive attire meet the eye in front of a huge bar.
The outside of Finca del Arte which was farm garden only befofe has also changed completely, as shown in the photos above.

A plastic roof keeps maintenance and costs low under messy ancient trees. The second level is on lower ground in the sun and has even a kiosk to buy things.

Discover some tall cages by the far end which are almost attached to the mansion. They house poultry of all sorts.
Not to be classified as free range but interesting for little kids, nevertheless... Even a rabbit is in the back of the tiny duck and geese pond.

Live music daily and Sunday afternoon Jazz.
Jazz is played on Sundays from 1.30p.m.to 4.30p.m.
Live music from late afternoon onward. Some days are dedicated to Pop and Latin music, others feature traditional tunes of the island among other.
Getting to the former Finca del Arte
Google maps or route finder are a must to get to this place. Why? We took the TF28 up the hill by the traffic circle on top of Los Cristianos.

We wouldn't have found La Finca, nor the Tree house bar at Calle El Taroso or the country club nearby,  easily.  We were lucky to get directions from a local. That was on a Thursday at Siesta time at 3p.m. in deserted la Chayofa streets.
Otherwise, mind km 72 from the TF1 Freeway to get to the TF28 Chayofa turn-off.
From Finca del arte back to Tenerife restaurants.
Up to Top?
Please mind that the comment box below is meant to help others. In case you have a question or want to tell me something, kindly use this contact form.

Back to HomePage of the Tenerife holiday home insider
This site is protected by Copyscape