Why did Fruteria M Carmen fill a gap with her legendary store?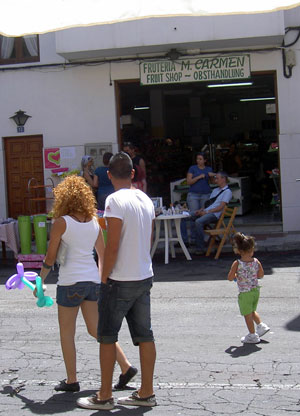 Fruteria M Carmen
was a one of a kind village shop. It didn't give away half of what was inside when you passed it. It was in C/ La Longuera of Realejos by Puerto de la Cruz.
It's a legend now and will be missed by many who will rave about it, as Carmen's shop was fun and meant the good old days.
There, people still had time for a joke or a chat. You were never a number like today's incognito shoppers.
Carmen's bananas and oranges in the entrance were cheap.
So what happened when you walked through?
Most people seemed to turn left, once they were inside Carmen's food oasis. The first which they saw then was the organic food section. There was so much there..
It was difficult to take it all in. It was like not seeing the forest for the trees.
Suddenly, you felt like Ali Baba who finally stumbled upon the treasure he had dreamed about.
In this context, it ought to be mentioned that Carmen even sold poppy seeds medicinal herbs which are great for poppy cakes.
That's the moment when you knew that you were in a shopping haven for gourmets, while some faint oriental smells reached you from an aisle on your right.
By the way, the shop was T-shaped and had an extra row of shelving in its back.

Even
green Cardamom,
was there. Fruteria M Carmen was full of surprises.
In fact, I want to talk about much more.
Why?
Somebody had been raving about the Indian Saroj supermarket. That person had never heard about Carmen's treasure trove. I had mentioned Carmen's outlet before. That was in the context of little, individual shops of Tenerife. Then, I put the emphasis on some of Carmen's natural produce and tropical fruit supply.
So what about Carmen's niche?
Fruteria M Carmen was rather geared up for foreigners on vacation. That's people who are not home every day. They don't want to hord too much. It may go off when they leave again, you know... However, the variety of stock of the Fruiteria M. Carmen was mind bogging. She had almost everything which was wanted. This included Bio for the German speakers, ecological for the Spanish and organic for all others.
All important Indian condiments were there. So was everything for the Chinese and almost any other cuisine.
Any imported groceries of fame seemed to end up in M.Carmen's niche shop. It really filled a gap.
Organic food products of Fruteria M Carmen La Longuera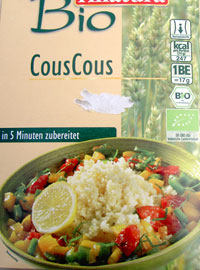 Natural Wild rice which was part of more than 20 brands of the mostly white grains
Organic Couscous
Organic Semolina
Naturally processed jams, marmalades and honeys
Organic oils and vinegars
Sauces with and without preservatives and colorants
Bio Tomato concentrate which is a must for the Pasta Bolognaise
Preservative free Horseradish concentrate for fish and
Tapas (tit bit food) and to serve with soup meat.
Naturally grown dried beans of all sorts, chick peas, lentils, and peas
There was
Red pepper concentrate
by Hengstenberg, but no pimentón ahumado which means smoked red peppers. However, the concentrate was without conservatives and colorants You could buy Carmen's cheap fresh peppers and smoke them by placing them on tin foil onto a smoker on your balcony for a
few hours and then put them into a dehydrator.
The health food Bulgur whose name is Turkish
Carmen also had the high fiber parboiled
Bulgur
which is known
as Dalia in India, with its high content of Durum wheat.
It's very common with the Middle Eastern cuisine.
I had never tried Bulgur.
I bought some and tested it in a soup. It's very good.
You can certainly use it together with many more dishes, be it meat or fish or with vegetables.
The beauty of it is that it's very filling as well as very healthy.
Carmen's Indian corner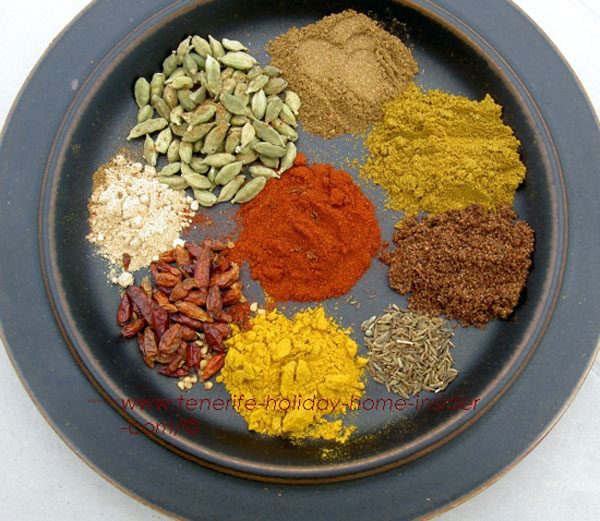 You could scoop up the amount of Indian spices which you needed. You could fill it into plastic packets, all of which was to be found on the right of the shop. The weight was taken at the till.
This is truly seldom nowadays and is only done in Tenerife Mom and Pop shops with Spanish traditions.
Prepacked Indian Masalas and curry powder mixtures
Garam Masala
Tandori Masala
Hot Madras Masala
Mild Masala
Standard Curry mixture with different spices
Byriani mixture ?
Black mustard seeds
Fenugreek seeds
Cooking Tamarind
Bamboo shoots
Many Curries were sold as pastes in handy jars by Carmen's village shop. So were chutneys and pickles ... Their quantities were ideal for the Tenerife holiday home owner who spends anything from one to six months on the island.
There were jars and bottles of other Asian and European condiments which were too numerous to list in Fruteria M Carmen's shop, some of which were real bargains.
British food products and UK condiments
Baked beans
Marmite
Bovril
English Mustard
Mustard based pickle Piccadilly by Hayard
Kidney beans
Sweet and sour sauce
UK cheese
Irish butter
Frozen British saussages
There are more British food articles which I haven't listed.
European food articles
Discover all the most popular European brands of tinned soups and stews, Knorr products, pastas and so much more.
Of course, there was a small selection of the most important chilled and frozen food with cold meats, Patés, dairy products and other Delicatessen. There was also an extensive liquor assortment.
German must have ingredients were:
Hefe
'Backpulver' (backing powder)
'Vanille Zucker' (vanillin sugar)
Einmach-Zucker and Gelier Zucker (Special sugar for making
your own organic jams and preservatives)
Sweets, cookies and cakes, some of which seasonal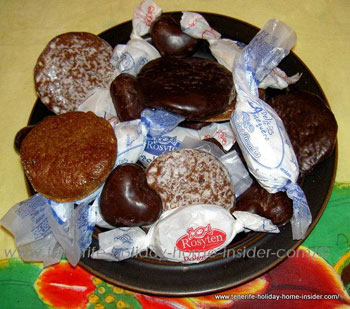 Popular European sweets and cookies
Carmen's Christmas sweets, some of which were imported,
as portrayed beside
Panettone
Marzipan Christstollen
Quark (cottage cheese> Stollen
Lebkuchen
Domino Stone sweets
Halva
Nuts and dried fruit sweets
Tenerife Christmas delights
Spanish Nougat
Chocolates
One offs were sold very cheap at the end of seasons, such as Easter and Christmas
Teas, coffees, medicinal herbs and herbal seasoning
English breakfast tea
Earl Grey
Camomile and others
Popular European coffees, Cappuccino and Cocoa drink brands
Fruteria M Carmen's own brands of herbs and teas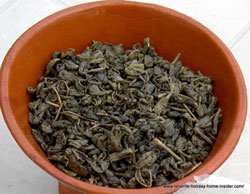 Tiny portions of health teas were conveniently sold in small plastic bags. No supplier was marked on them Obviously, they were part of the brand Fruteria M Carmen. There was Erica Lusitana tea. Of course, encounter
Green tea
and Poleo tea (Peppermint tea) which grows wild in Tenerife mountains. The twigs of the Poleo are boiled gently and then served in a glass, just like in Northern Africa. There must have been about 20 medicinal herbs, many of which are for seasoning as well. Some were marked with German and Spanish names.
You could always sea through the herbal packets, while the smell often gave their names away. Otherwise, you could bring an electronic pocket translator for shopping.
Candized Ginger
One day, I spotted some more local products at Carmen. Most interesting was a 700g jar (Euro 6,75) of a Spanish brand of caramelized Ginger sweets. They seemed to be ginger peaces which had been treated like dried fruit but sugar coated. A very healthy sweet for everybody. Also, they helped the pregnant lady when she had morning sickness.
Where did Carmen's shoppers come from ?
Of course, most Spanish speakers and locals of Toscal Longuera with its 7000 inhabitants love Fruteria M Carmen. Many purchased fruit and vegetables there. Many were part of the
British expatriates in Spain,
such as the elderly, late Angus. Many were renters or owners of a holiday home in Tenerife in the Aparthotel Maritim, Hotel Panoramica Garden, Romantica 1 and Romantica 2 as well as Los Potreros.
Generally, people from Spain don't like spicy food, contrary to the Portuguese. South Americans are different to an extent, while Carmen's Asian foods appealed mostly to North Europeans, such as the British and the Germans. Not all of Carmen's customers but, most were mad about exotic food, such as cooking bananas, sweet potatoes (batatas), yams, pumpkins and gourds, to name just some. Most were passionate chefs.
What about parking in Longuera?
Parking in front of the shop was free for half an hour, while a police officer was said to patrol this. Also, you could look for a space at the top of C/Monturio corner C/Castillo by the Restaurant La Finca or in one of the many side roads in the suburb.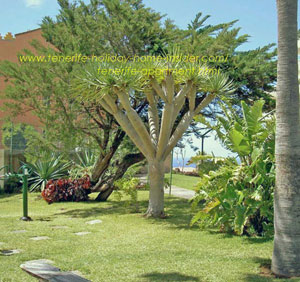 So what about Saroj Supermarket?
Discover what makes Saroj unique by its own surprise food niche and articles of its
Indian supermarkets in Tenerife North and in the capital.
Want to know about some special shops in Tenerife where Fruteria M Carmen is featuring in an additional way with other much wanted produce?
From Fruteria M Carmen back to shopping in Tenerife.
Back up to top?
Please mind that the comment box below is meant to help others. In case you have a question or want to tell me something, kindly use this contact form.

Back to HomePage of the Tenerife holiday home insider
This site is protected by Copyscape