Sample some lunch by La Cosina de Dona Rosa on San Marcos beach.

La Cosina de Dona Rosa the Italian beach restaurant is family owned and family run.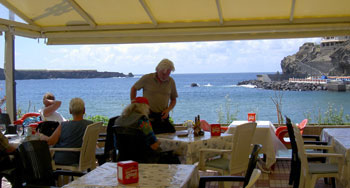 It's almost impossible to resist sitting down on the inviting beach veranda of Restaurant Dona Rosa
The light under the large, square, yellow canvas roof is so cozy and welcoming while all the lovely blue ocean is right in front of you.
This is ideal.
Or would you prefer a meal in plain sun?
Even some pot plants brighten up your lunch surroundings at this eating place.
While enjoying a simple pasta lunch at Restaurant La Cosina de Dona Rosa you can admire the whole bay of beach Playa de San Marcos.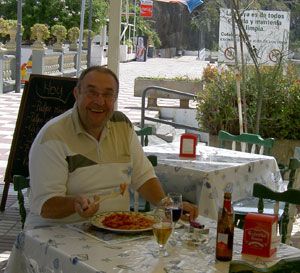 My friend Guenther may be seen with his
5€ menu Pasta dish
in front of him which was rather cheap on this day of our trip in May 2008.
By the way, the time of the day was too early for me to have a whole meal.
However, I tasted some of the Macaroni Pasta dish my friend had ordered. It was very much OK:
I had a nice cool drink, instead.
I doubt that gourmet food is on this Italian beach restaurant list for normal days.
All food at Cosina Dona Rosa is home made.
Anything that isn't junk food is good. Right?
A board outside the restaurant was displaying the menues of the day when we were there.
See for yourself the low prices for food and drink by Cosina de Dona Rosa written on it.
Besides, this Italian restaurant also stocks yummy cakes home made by a German lady of its personnel.
Service at this small San Marcos beach restaurant is excellent as is normal with all family operated businesses in Tenerife gastronomy.
Tell the waiter what you would like to drink or order it inside where you can choose different wines and liquors, too.
Should you ever be at this restaurant during a day with unpleasant weather which is so rare around there. then, you can, of course, eat inside.
Swimming and watersports can make very hungry. Therefore, Restaurant Cosina de Doña Rosa is a fantastic asset on Beach San Marcos Playa of Icod de los Vinos in Tenerife.
Parking on week days seems to create no problems.
Please, return from La Cosina de Dona Rosa to Tenerife restaurants.
Kindly note:
Please, pay it forward if you liked this information. Click "plus one" which is the icon below. Thank you...

Please mind that the comment box below is meant to help others. In case you have a question or want to tell me something, kindly use this contact form.

Back to HomePage of the Tenerife holiday home insider
This site is protected by Copyscape