Restaurant Ruen Thai for all Asian food lovers.
The elegant Restaurant Ruen Thai is closed on Mondays.
Grand as well as cosy
The Ruen Thai is not small any more like it was in the past when it was located in the main Road Carretera Las Arenas.
Now, its premises on the first floor of a building of the town hotel Hotel Puerto Palace easily look like 70 square meters, without kitchen and utility rooms.
Many of its little nooks are nice for private occasions, while its general size invites for large events, such as year end parties and more.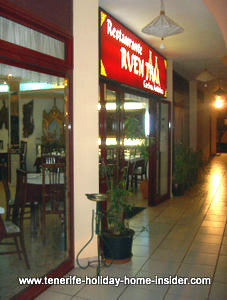 Restaurante Ruen Thai Cosina Asiatica Puerto de la Cruz
Restaurant Ruen Thai Table service
Opening times 12.a.m.-4-p.m
and 7 p.m. - 11 p.m.
are for lunches or for suppers.
The staff is attentive, speedy, warm and welcoming.
This Asian restaurant reads outside in Spanish:
Restaurante Ruen Thai, Cosina Asiatica,
as depicted beside.
Restaurant Ruen Thai address
C/Dr. Celestino Cobiella Zaera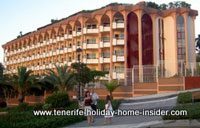 below Puerto Palace Hotel
39400 Puerto de la Cruz
Tel 922 376946
mail to ruenthai@live.com
You cannot miss one of the bigger buildings of the Puerto Palace Hotel by Carretera Las Arenas by the traffic circle. It's best to turn in there by the circle with water fountain.
By the way, I would say that it's located less than than 10 minutes from the Central Puerto de la Cruz bus station - by car.
Coming from the bottom, turn left there into C/Dr. Celestino Cobiella Caera...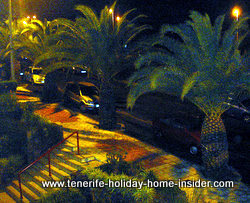 Ruen Thai Restaurant parking
The mood of the restaurant surroundings is not only mellow in the photo depicted beside.
It is also peaceful in real life in this quiet corner of the oldest Tenerife resort.
During public holidays, you may have to look a bit further by one of the other sides of the large hotel to find Ruen Thai Restaurant parking.
My first dinner at the Ruen restaurant must have been in 2008, if I recollect well.
Unfortunately, I had to remove my Thai celebration picture with a friend and I eating out Thai food at the Ruen Thai. My friend doesn't want to have a photo in the Internet.
Decor has been turned lighter since then but its Thai art work, such as Asian paintings and a sculpture is still there.
Designer cuisine or Asian Tapas?
One of the Thai Ruen starters called Kratong Thong falls under that category. They are miniature filled cup pastries. They delight palate and eyes and look like ideal Thai party food.
However, those cup cakes could very well feature in any Asian cuisine for celebrations. You may even find them in the Japanese, Malay, Balinese or Vietnamese cuisine. I have not seen something alike on Indian tables. By the way, Chinese food is generally quite distinct from Thai dishes.
How fill Kratong Thong Thai Pastry cups?
Use tiny bits of chicken to prepare Kratong Thong...Mix in sweetcorn, savoury vegetables,
such as red peppers, potato and very little onion
with sugar, salt and thai spice.
Only chicken, sweetcorn and colorful vegetables seem to be visible.
Avoid mashing...
Kratong Thong is vegetarian food.
Thomka Gai soup
By the way, the hot Thai Ruen chicken soup called Tomkha Gai is a totally different kind of starter.
It also contains coconut milk.
Needless to say is that Thomka Gai Chicken soup is very good.
One of my friends only eats Thai seafood or Gaeng Gari Gai.
Gaeng Gari Gai Thai chicken dish
This is a red curried chilly chicken.
It is a main dish with coconut taste.
I for my part will never decline Thai Ruen porc or beef.
By the way, many Thai dishes at this Puerto Palace Hotel restaurant contain cococut as milk, butter or as fiber.
Depicted below is an image of Thai Beef curry.
I tasted this beef curry at the Ruen Thai for the first time in 2009.
Notice a peace of cut pinapple inside.
Fruit like pineapples are not only typical for Thai cuisine at the Restaurant Ruen Thai Puerto Cruz.
Eating out at Restaurant Ruen Thai in midsummer
On August 04,2011, two friends and I were having dinner at the Puerto Cruz Thai restaurant again. About 20 happy faces filled the large restaurant during this peak time of Tenerife holidays. Most of them were young Spanish tourists which may have been guests at the attached Hotel Puerto Palace Tenerife. A young man in a wheelchair was also there. In fact, the Tenerife Restaurant Ruen Thai has excellent wheelchair access.
Green Thai beef curry
On this occasion, I had a different Beef Curry. It was a green beef curry called Gaeng Pet Nuer (#75 of the menue for €9) It had some red pepper in its sauce as well as Basil and I absolutely loved it.
We also shared Pinchitas de Pollo which were delicious chicken skewers(kebabs) made the Thai way. This dish which is served with a little salad and a slightly spicey sauce is found under starters in the menue.
A new friend of ours who had lived many years in India Goa had Thai Gambas empanadas deep fried Thai prawns seafood.
I didn't taste those cretaceans but she absolutely loved them.
Ruen Thai vegetable curries in general
Basically, I adore all the Ruen Thai Restaurant's vegetable curries. I had one end of 2010 which was finger licking good.
Popia Paak rolls
Two Ruen Thai vegetarian spring rolls were preferred as a main meal for my friend Susanne, off lately. I tasted some and must agree that they were very yummy.
How order at Ruen Thai?
The card is presented in English, German and Spanish. What is lovely is that those who are reluctant to eat spicy hot food will always see the red chilly icons in the menu card. People with stomach ulcers better look further when seeing three of the red hot peppers next to a dish. You may order less spiced, of course.
However, Thai Food is generally not as hot as most Indian cuisine.
Conclusion
The Restaurant Ruen Thai is a must for all food lovers of Asian cuisine, while its prices are not exuberant at all. Around Christmas 2010 you may have a lovely variety of dishes for Euros 35 for 3 ladies. This would include rice, 3 main dishes and 5 starters for only Euros 35. Drinks would be extra.
Lots of Thai food, such as salads and also Massaman
We were celebrating more top Tenerife Restaurant Thai food by another birthday party Cumpleanos in 2011, where many photos and descriptions are the result of it.
Return from Restaurant Ruen Thai to Tenerife restaurants...
Ruen Thai 12 minutes from Internet apartment Tenerife
By the way, this not to be missed restaurant Ruen Thai with best Thai food is only about 12 minutes by car or cab from my lovely apartment.
Please mind that the comment box below is meant to help others. In case you have a question or want to tell me something, kindly use this contact form.

Back to HomePage of the Tenerife holiday home insider
This site is protected by Copyscape