The amazing Ayuntamiento Los Realejos.

The Ayuntamiento Los Realejos doesn't just have Tenerife events. 

It has more.
Indeed, its principles greet you on its ground floor like a colorful monument. They are painted onto stone on two staircases that lead to the first floor of the Town Hall building.
In fact, they may break the ice with all who want to employ the institution's services.
   
The writing of the mottoes on the steps of this government mansion seems to be Chinese, Japanese and Arabic in addition to Spanish and English.
Emphasized values of the Ayuntamiento Los Realejos
On the first staircase: Integration, education and health

 On the second stairway: Family, participation and protection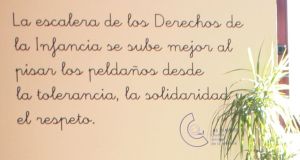 Words of wisdom

Otherwise, there is an important Spanish proverb written in Calligraphy on the wall above the first flight of stairs.
It says that the stairs of the rights of childhood are climbed best by using its stepping stones of tolerance, solidarity and respect.
   

Ayuntamiento Los Realejos Casa Consistorial address
Avenida de Canarias, 6

38410 Los Realejos

Telephone: 0034 + 922 346 233

Tenerife - Spain

Ayuntamientodelosrealejos Facebook page
Mayor (Alcalde) since 2011 and re-elected
of the PP Partido Popular:Manuel Domínguez González who is also the Island president for this Party

Vice Mayor, main counselor and Right hand of the mayor
:
Adolfo González Pérez Siverio
Top services you find at the Realejos Town Hall
General information at its main desk by the entrance

 Certificates that allow you to travel cheaper as resident of the town

 Licenses for building and alterations

Town planning information

Archived information about the town of Realejos

Real estate property related information

Social services which include a social lawyer
Town Hall public attention winter times 2018-2019
Mondays, Wednesdays and Fridays from 8.30 a.m.to 1.30 p.m.

Tuesdays and Thursdays all day from 8.30a.m. to 6.30 p.m.

That's where and when to apply for the Patronamiento for example. Expat residents may need that for cheaper ferry or inter-island flight trips or to get the Titsa 47 Euro resident Tajeta. 
Vital role of Ayuntamiento interest for Realejos children
Not done at the Town Hall
Nearby OMIC Realejos by Plaza de Viera y Clavijo in Calle Del Medio Arriba minds consumer complaints very efficiently.
Rental disputes are handled by the nearby Police of Los Realejos the address of which you can receive at the Town Hall.
Registrations for property services like water connection, trash collection and yearly Ibi property tributes are taken care of by the
the nearby Consortium
Important orientation points by the Town hall
Event posters near the amazing Town Hall stairs
Posters of tuition for adults and youth
By the way, passion and high interest are generally more important with practical studies than Spanish language skills.
Entertainment events sponsored by the Town Hall the Villa Los Realejos.
Most extraordinary exhibitions of the year 2018
Always, take the time to pass by at this public Hall of the town of Los Realejos. It always has surprising new events coming up. Sport, theater, film, photography and tuition are very high on the agenda.
Not to forget are the festivals of this so called main party town of Spain.  

From Ayuntamiento Los Realejos back to the town and municipality page of Los Realejos.

Kindly scroll a little further to comment for Facebook instead?
Please mind that the comment box below is meant to help others. In case you have a question or want to tell me something, kindly use this contact form.

Back to HomePage of the Tenerife holiday home insider
This site is protected by Copyscape

Back up to top?