A grain grinder antique mill which became part of Spanish customs.
The grain grinder which is depicted beside is truly a little gem of carpentry and Tenerife traditions.
The antique mill for grinding toasted grains into Gofio flour is in an excellent condition.
This grain mill which looks like a square, high, small table was lovingly looked after for centuries. It is now part of a private collection of typical museum peaces of farm life at Icod el Alto. That farming community played its own, interesting part in the Spain history of Los Realejos.
Dating back to Spain and Guanche origins.
This Tenerife grinder like some folk dances are rooted in Guanche customs, although what stayed behind has its own slightly altered form.
Look at the huge basalt grinding stone which takes up most of the surface of this peace of decorative furniture. The 1,5 inch thick stone looks like it is about 15 inches or 45 cm in diameter. It reminds very much the old way of Gofio crunching, as mentioned by the Guanche caveman culture. However, their stones were not as big. The polished, long wooden handle was added to make the manual labor with the grain grinder more easy.
The rest of this mill which comes with a table and wooden drawers to catch ground flour is too beautiful a result of excellent carpentry.
 A grain grinder for all sorts.
Notice that the Canary Islands' grain mill also crushes wheat.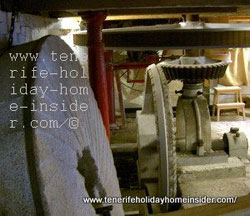 Wheat grinder for bakery and home industry
However it's not like the antique industrial bakery flour mill which is depicted beside.
Both, the rustic one above as well as the ancient one beside are machines that have worked cereal for centuries. They also handle barley, spelt and many other seed crops. Perhaps, their rough make will even crunch Tenerife beans which could also be part of Gofio.
When you turn the big Gofio grinding wheel of the more dainty mill by grabbing the wooden upright stick you will hear the most hollow, eerie sound.
Needless to say is that this grain grinder which was partly mechanized became part of Spanish customs for some early settlers from Spain, eventually.
Frantoio Gofio.
By the way, Frantoio Gofio (groso) is always stone ground rough and not finely ground Gofio which refers to the mill shown above. I am not sure if the expression comes from the Italian language.
It is amazing that the old habit of milling toasted grains to make Gofio is not out of fashion yet. After all, it helps to maintain healthy old traditions which stood the test of time.
Only just recently, I discovered a booklet with 100 Gofio recipes. Of course, almost any recipe which names wheat flour as ingredient, could be replaced by gofio which sometimes has a nutty taste and bite to it.
An energizer with unbeatable qualities.
Also, Gofio is a superb and perfect source of energy for sportsmen, such as cyclists and hikers. It's good to take it along onto a trip, as the healthy stuff lasts a pretty long time without going off. Meantime, no additives or colorants are added nor needed. Of course, the manual mill saves much on production costs. However, the few   mechanical  ones which are still in operation today are not expensive to run either.
By the way, Gofio flour is cheaper than wheat flour on Tenerife Island.
From grain grinder back to Icod el Alto with photo of modern mill.
Should you avoid grains is answered
here.
Please mind that the comment box below is meant to help others. In case you have a question or want to tell me something, kindly use this contact form.

Back to HomePage of the Tenerife holiday home insider
This site is protected by Copyscape