Gran Poder de Dios explained and photos of its procession in 2022

The Gran Poder de Dios is first of all a statue of Christ. It depicts top artistic value in Baroque style where an  amazing expression of sorrow excells. The locals of Puerto de la Cruz sometimes use the nickname "El Viejito" which translates into "our little old man".
The full body figurine was originally ordered from an artist in Sevilla for the Island of La Palma. However, it got stranded on Tenerife, after several trials to forward it to the neighboring island failed due to bad weather. The Palmeros eventually excepted this as excuse to keep the "dear old Man statue" on the biggest Canary Island. Kindly translate Spanish from a Wikipedia information to learn more details about it. I can only give a nutshall reason to its history. More would be seen as Tenerife holiday home insider plagiarism by the Search engines.


Gran Poder de Dios on its silver pedestal of an amazing craftsmanship taken onto a town procession
Depicted above is El Puerto's town treasure outside the main entrance of Church Iglesia de Nuestra Señora de la Peña Francia on July 11 of 2022. It is carried by church dignities.
At least four members of the Guardia Civil are in front with heavy guns. Even the female officer is carrying an automatic machine gun, as seen in the following photo.


Many members of the Town Guild the Cofradia del Gran Poder de Dios clad in black festive attire accompany it. Why the Cofradia? It declared Jesus who is represented by the Statue together with Maria del Carmen his mother as patrons of the Town.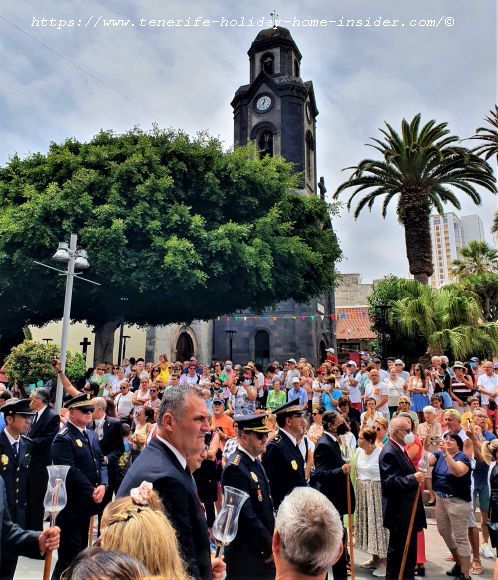 Military and other most important dignities as part of the procession Gran Poder de Dios in Calle Quintana Puerto de la Cruz Tenerife
The amount of uniformed generals and other top officials which took part on Monday July12th was impressive enough. An old tradition revived again in 2017 or 2018 after many decades, to the best of my knowledge. Military and police besides important regional polititians at the Gran Poder de Dios event had obviously been revived by the PP the Party Popular of Puerto Cruz which was still in power at the time. However, I wonder who introduced Pegan themes, such as Poseidon of the July celebrations in the Cabalgata of 2022 Fiestas de Julio that ought to have been traditionally for the Fiesta del Carmen patroness of the town.


Why the Gran Poder de Dios has stood the test of time
The Portuenses strongly believe that praying to Jesus who is represented by the statue even saved the town from major cholera casulties, more than a century ago. Besides, they also love all public celebrations where its Carnival is tops. Its next Carnaval as called in Spanish will take place in August 2022 or sometime after that.
However, before that the main July spectacle of Puerto Cruz and of Tenerife in this particular case will be the Fiestas del Carmen boatsride by the Holy Mary statue on July 12 of 2022 with amazing pictures as well as a video of great fun.


Gran poder de Dios Military brass band
The young men of this band presented a very professional and beautiful performance in honor of Lord Jesus during the procession of July11 of 2022. By the way, the renown Puerto de la Cruz statue plays an important role in all Semana Santa Processions of the town as well, very beautiful photos of which see here at one of most stunning Holy Friday Easter Events of Tenerife.


From Gran Poder de Dios back to Fiestas del Carmen

Please mind that the comment box below is meant to help others. In case you have a question or want to tell me something, kindly use this contact form.

Back to HomePage of the Tenerife holiday home insider
This site is protected by Copyscape