Find out why houses in Tenerife can't just be changed at will.
Houses in Tenerife cannot be changed without permissions. Alteration restrictions apply.
In rural areas, however, the relevant authority might close an eye in certain cases which may vary in different villages.
It's always so much easier to build from scratch when we can take environmental laws into consideration right from the start.
Changing exterior aspects of houses in Tenerife is so much more expensive.
For new construction of houses on the biggest of all Canary Islands building licenses apply as much as for alterations.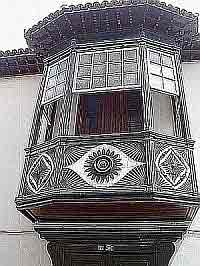 Many incidences were reported in the Tenerife media by newspapers and by television Canaria about illegal building.
This happened above all in coastal areas with sensitive geological conditions. Many houses there had to be taken down out of which most were new ones. By the way, none of the houses were showing typical Tenerife details like a custom built island balcony.
Please, don´t only mind location because of eventual wild fire threat when considering the purchase of a finca in Tenerife.
A rustic finca which means a farm house in this case may be protected for the sake of Tenerife history and culture as was done very successfully at what is now a modern theme park in the north of the island which had several Tenerife houses.
The Island is different in many aspects from other countries in Europe but, building regulations Tenerife are alike compared to those of many other European nations.
It may happen that fincas(farmsteads or country estates) have to be renovated to their original state.
That could mean renovating with tiny windows or even with none at all.
Regulations may demand renovations of old townhouses or, rural Tenerife houses on the island with original materials - which may no longer be available. Such alterations will always be called 'reformas'( structural renovations) when infra structural alterations such as new plumbing and electricity are necessary.
Any structural changes or even replacement of doors and windows are part of that.
By far the biggest and most costly project of renovations may be for historical reasons. Then, the smallest details need to be preserved as in the case of Casa del Patio by Santiago del Teide Tenerife where building restorations finally came to and end.
My own experience with building alterations of houses in Tenerife
I had the idea to enclose part of my large balcony where I stay.
Although, it would have been a very light structure on one of modern Tenerife houses the officer for building licenses in Los Realejos Town Hall on the first floor told me that I, definitely, would need to apply for a license for it if I wanted to go ahead with this addition. I also needed to hand in some building plans at this office by an architect for the construction.
All I can say is whenever you want to change something on your property such as a house or apartments it's safer to find out with the authorities what documents and permissions are required by Tenerife law.
Of course, a price is attached to every document you need for changing anything on Tenerife houses. Nothing is for free.
However, I don't think that I would have needed written permission for the very short wall we put up in my studio apartment to secure a built-in cupboard. Mind, no bricks were used for it but, a material which was very light. This was in a well built house while many houses in Tenerife don't even have good enough foundations to allow for alterations.
The artisan said no permission was needed. It would be better not to rely on such statements to avoid building alteration fines.
Did you know that all kinds of houses in Tenerife could be seen in miniature in La Orotava? Unfortunately, the place Pueblo Chico  closed its doors, a few years ago.
Notice that even alterations which will be done in the name of government or town hall need all the permissions and must follow building regulations for changes in and on its historical buildings, for example... Why? Much to these houses in Tenerife is done with tax payers' money. Therefore, every building alteration must 'go by the book'. That's why restoration of public houses and buildings in Tenerife take a long time before work on them is started. Architects together with a building engineer called Aparejador in Spanish must take responsibility with major alternations or even repairs. Licenses big or small are required for just about everything. 

Tenerife building mistakes
Consider avoiding the placement of a veranda on a south-west side which is more vulnerable to storm damage. You wouldn't want damage to your holiday home in Tenerife at any time of the year.
Go see stunning interior results without structural changes of a renovated Tenerife apartment in one of Los Gigantes houses shown in a photo gallery.
Please, go from houses in Tenerife to holiday villa Tenerife which is a review on how a German couple I knew did building alterations in the country with much success.
With this project of a major alteration of one of village houses in Tenerife every penny spent was a good property investment in Tenerife.
Spanish architecture by Playa de las Americas Tenerife South.
Tenerife houses stately mansions by the  Santa Cruz de Tenerife Rambla.
Please mind that the comment box below is meant to help others. In case you have a question or want to tell me something, kindly use this contact form.

Back to HomePage of the Tenerife holiday home insider
This site is protected by Copyscape