The Halloween pumpkin versus the fodder beet of German traditions.
There was no Halloween pumpkin shop in Germany, when I was small. Today, every party business includes it in all its towns. Halloween has become big business all over the world.
Spain's as well as Tenerife's commerce where I stay now also have adopted it for the same reason.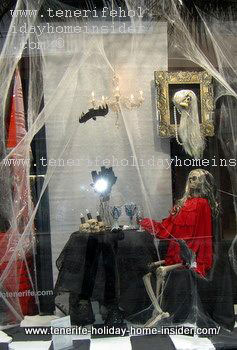 All Halloween things, ghost costumes and party stuff, as depicted beside, are sold at this shop called Carolan in Santa Cruz de Tenerife.
I could detect www.carolantenerife.com as part of its window display. That web probably tells more about this party catering business. Look at the window decoration with its Halloween skeleton which has a party. Artificial spider webs are around it. Skulls, Gothic gear, white candles and drinks are by the table. That shop shows you how far the Halloween celebrations have spread. Tenerife is rather close to Africa, you know...
However, my article isn't about the biggest Canary Island, but, about a eery night of my German childhood.
An ancient custom of Germany so much like Halloween
Indeed, there is a Halloween connection with the German version of Saint Martin's day on November 11, just before lent. Then, we worked with fodder roots that belonged to the same family like pumpkins. We were to make scary lanterns.
The carving of a beet Halloween pumpkin alternative
My alternative German beet carving was a bit of a tricky mess for us kids. Our elder brothers or sisters assisted often with the hollowing out of he fodder vegetable. Those pumpkins were rather oval and similar shaped like sugar beet. However, their almost grey, very pale complexion made them look ghostlike, indeed.
What about this alternative Halloween pumpkin decorating?
The trick was to leave enough flesh on the bottom of this Germanic version of a Halloween pumpkin to make something like a broomstick take hold in it.
Often our pumpkin alternative broke when the stick was added to it. Making holes for eyes, nose and mouth was no big deal, though. However, it wasn't easy to place a light inside the beet. But, the illumination was so important. That gave it the ghost look. No ghost lantern festival could be without illuminated fodder or sugar beet. By the way, the Saint Martin day lantern festival with beet is also celebrated in Austria and in Switzerland, where Halloween is also taking over.
The Martinsruebe
Just now, I've researched in the Internet for way over an hour to find the alternative of Halloween of ancient German traditions. I wanted a photo too. I've searched by German phrases and words like 'Martinslichter, Ruebengeistern, Ruebenlaternen, Futterruebenlaternen, Ruebentraditionen', you name it. The best and most interesting Artikel about it that I had found has disappeared unfortunately.
I discovered no information in English, as hardly anybody knows, in fact, that Halloween is not really new in Germany. Only the occasion and the day of celebrating it is not related to ghosts and vampires. However, that's exactly what we as kids felt like in those early days after the 2nd World War. Mind that we carried our illuminated vegetable monsters through the dark German streets when only scarce gas lamps existed. I find it highly interesting that different northern European countries, such as Germany, Austria and the UI have similar age old customs.
I am inclined to think that there are more regions in Europe with Halloween related traditions. This should be an interesting matter to dig into for anthropologists.
What about our St. Martinsmas or Halloween costumes?
We were putting some white coats over our winter clothing for a more scary appearance. They were just made of old cotton sheets. They looked eery and spooky enough for our little fodder beet night parties.
But, the best of all was that our elder brothers and sisters would tell ghost stories during the night event. Sometimes, some of us even made a bonfire on the occasion.
Saint Martin Day goose
Some farmers served a Saint Martin goose with red cabbage and Knoedel on that day, but I can't remember that there was anything special to eat in my family.
The genuine lantern festival German traditions
Meantime, we had what the town Bad Homburg called a real lantern festival at the end of summer. Paper lantern making became a custom in all schools in my town district, then. Reason for this may have been the town's historical Thai, i.e. Siam connection.
Invitation for tourists
Are you a tourist or do you have a holiday home in Tenerife?
Restaurant La Barrilla of the luxury 5 star la Paz hotel Hotel Botanico of Puerto de la Cruz Tenerife is inviting to a Saint Martin Day dinner party on November 11, 2011. Of course, this will be with traditional, hearty St. Martin goose, red cabbage and Austrian Knoedel and the best wines you may wish for.
Get more ideas about different ways of celebrating Halloween with music, parties, concerts and more by Tenerife events
Back to similar traditions with the ghost festival vegetable
From Halloween pumpkin to Halloween pumpkins where you can learn what else can be done with the so much more beautiful orange vegetable of Halloween today, while those of old German traditions were not good for human consumption.
Please mind that the comment box below is meant to help others. In case you have a question or want to tell me something, kindly use this contact form.

Back to HomePage of the Tenerife holiday home insider
This site is protected by Copyscape