Enjoy Lido Los Gigantes for a lovely tan and more...
Actually, there is more than one Lido Los Gigantes. They are virtually next to each other. Both have public swimming pools above the sea and are very near the Marina yacht harbor of the town. They are by the Avenue Avda. Maritima. The Lido El Laguillo which is closer to the Marina is off Corner Avda. José González Forte and C/ Poblado 1.
The other lido called Oasis which is not a restricted club by the way is bordering Avda. Maritima.
Lido extras
Both pool parks have toilets, showers, water slides, bars for you to buy snacks, pool loungers and umbrellas, while the Oasis Center offers some more services which include sports classes and even some toddler nursery equipment.
The Lido Los Gigantes is much favored by locals as well as by families with kids when they don't have a pool at home.
It is nice and big to hang out there on family holidays.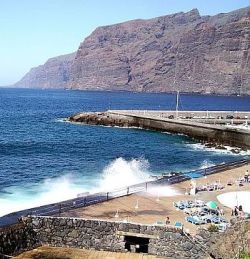 Tourists also love it just like Lago Martianez which is the lido of Puerto de la Cruz the oldest resort in Tenerife.
In some extreme cases, it's more practical or it may even be temporarily safer to go to a lido than to beaches on Tenerife island.
It's very nice to walk to the Lido Los Gigantes past many flowering shrubs, palms, trees and Bougainvillea covered walls.
Many a Tenerife holiday home is in this area, almost all along its coast.
When there is no pool attached, you might find the owner or renter at the lido.
How much pool space?
The lido Los Gigantes El Laguillo is an Olympic type large square saltwater pool, contrary to the Oasis pool which isn't smaller but which has curves.
Both lidos are fed by the ocean and are said to be heated in winter.
However, you may find it somewhat chilly in between seasons.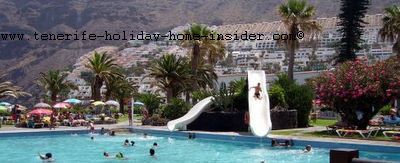 This large swimming pool is in a stunning place. It's not only by the Atlantic's edge. It's embraced beyond the yacht harbor by cliffs which are even much higher than the white ones of Dover.
In fact, the Acantilados de los Gigantes rocks are the most awesome and most impressive by any human settlement in the whole of Europe.
Notice this enormous, basaltic wall with green hills next to it, while soothing north eastern trade winds can still come through to fan you.
Many vacation apartments were built onto the terraced slopes which make out in the background. They look stunning under the West coast sun.
What more does one need to be happy besides natural swimming pools in Los Gigantes?
Good eating places where fresh fish excels are everywhere outside the lido. Sun beds for your comfort are there, too.
Good suntan protection and lotions are advised to be taken.
Think of the children, above all... Avoid high noon and the heat of the Siesta time sun when out in the open...
'After sun care' will help the skin but, it will not take away any burns. It will also not prevent cancer.
Lido entrance fees and discounts
Rather buy reduced weekly entrance tickets for lido pools and come to enjoy the fun more often. Check the price of Euro 20 for adults for El Laguillo which may be subject to change. Not long ago entrance was free and I hope that the information I found online now is a misunderstanding. However, the more exclusive Oasis Lido always had its price which only seems to be slightly more.
Also, please, mind, that all pool loungers which are not even for free might be taken when you arrive there late in the morning at the Laguillo Lido in Los Gigantes.
Many are trying to catch the early morning sun.
I used to love to stretch out
straight on the pavement by a pool. You could do that at the Lido of Los Gigantes. That way I was forced to jump into the water more often. One gets hot faster lying on stones.
And, I was taking bets that I was tanning in express mode with that strategy. But, we only do such nonsense when we are young.
Don´t we?
What about studio tanning, contrary to the lido?
Today, life is more easy. Today you can get a fast tan in a sun studio. However, no solariums exist with the sight of lush bougainvilleas to look at. By the Lido pools Los Gigantes this subtropical splendor is a bonus besides the Teno mountain Massif.
Top spot for vacations
I would have loved this place with the lido Los Gigantes, when on my first Tenerife holiday.
I knew the Lido Lago Martianez pools which I could see from my hotel. That's why I know, how much fun people have in such locations. Not to forget is that saltwater and salty air are very good for you for much more.
Isn't that a much more pleasant and healthier way to catch a bronze complexion?
You can have that. Reserve more extended Tenerife holidays by the Lido Los Gigantes or come to the island more often..
Where stay the night?
You could have your own holiday home in Tenerife. There is a resale property, an apartment not far from the lido. It's on sale direct from the owner. It's in a good location and comfortable for a family of three and the utmost four.
Lido alternatives by Los Gigantes
By the way, there are alternatives besides the beaches by Los Gigantes, such as Playa la Arena. There is Crab Island for swimming and fishing. It's below Hotel Los Gigantes. Then there are natural Gigantes rock pools for snorkeling, diving and for your dog. These pools are outdoor fun pure without luxuries, but free for all, even when the moon shines, while the lido has its opening times from 10.30am to 6.30pm.
Please, returm from Lido Los Gigantes to Los Gigantes...


Please mind that the comment box below is meant to help others. In case you have a question or want to tell me something, kindly use this contact form.

Back to HomePage of the Tenerife holiday home insider
This site is protected by Copyscape