Who should select Restaurant La Papaya for fine dining in Tenerife?
Restaurant La Papaya was first of all very convenient for all, who hardly know Puerto de la Cruz of Tenerife Island.
It was in the quaint street Calle el Lomo.
Indeed, this restaurant has been closed in 2019
Why? Because the owner retired and nobody in the family wanted to take over. Now, it is for sale.

Calle el Lomo is very easy to find by
turning left into C. San Felipe from Plaza del Charco
opposite the newspaper kiosk by the taxis;
selecting Calle Zamora to the right
going left again into Calle El Lomo
which was once part of fishermen quarters;
discovering Restaurante La Papaya
on your right at no.10 (tel: +0034 922 28 11)
See a section of the quiet Calle Lomo beside with Restaurant La Papaya shown with white umbrellas by its front door.
That eating place with the name of the pawpaw fruit was in a picturesque pedestrian zone with many low, colorful houses. Less than a five minutes walk separates them from the center of town and its little harbor.
Did you know that La Papaya's food and service had  stood the test of time over a period of almost 30 years,
since 1978?
Praise of La Papaya food since 2010

Admire two young Restaurant la Papaya fans. Obviously, they enjoyed some lunch salads at the time.
They were seated outside by the restaurant porch, which is ideal for social encounters. It was easy to approach them; they looked so happy and friendly. The lady in pink said that she was coming to La Papaya quite often, as she liked it a lot. Her companion was a first time guest, who nodded in agreement.
That Papaya restaurant praise by strangers popped up in my mind, about 3 weeks later during the carnival week. So my friend Petra Molkenbuhr and I had our first meal there. By the way, there was no carnival decoration at the Papaya restaurant, contrary to  the Casona.

Putting a Restaurant la Papaya dish to the test
We too, went for seats under an umbrella outside the restaurant. This was most practical, as we were expecting another friend, who was not much familiar with the location.
A small glass of fruity white wine was served to us on the house as a welcoming starter.
La Papaya chicken curry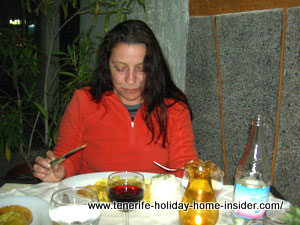 See my friend Petra Molkenbuhr, while she is tasting chicken Curry with Basati rice and pine apple. The rice was done to perfection. The chicken peaces were tasty and virtually melted in the mouth. More of the delicious, creamy sauce which was fairly mild was dished up for me, when I asked the waiter. Petra also liked her red wine, which was a Rioja.
I had to love my water, as I was on antibiotics.
Entertainment at La Papaya for eating out?
No live music entertainment was offered at Restaurante La Papaya at that time. The location is popular for sightseeing and for the exploring of food adventures.
Restaurant la Papaya menu card
Many also pass through by the restaurant. They want to avoid the traffic of Calle San Felipe. This is how strangers often stumble upon Restaurant La Papaya. They stop and study its food prices. They are conveniently displayed outside in several languages. Enlarge a Restaurante La Papaya menu card depicted on your right. Let it give you a general idea about the dishes on offer. Encounter their prices, as they were at the end of February 2010.
Customer success by La Papaya Restaurant
In fact, one could watch the Papaya customers' coming and going by the restaurant entrance from its bar next to an inside dining room.
Many photos of event celebrations of previous guests who liked eating at the Papaya were displayed in the restaurant's entrance.

All that proof was pinned up above a prominent door.
Yes, the Papaya had a history of customer success.
The Papaya eatery Puerto Cruz  garden patio

Not to forget was the section of the enchanting patio of the Pawpaw restaurant. 

  It was in a little oasis of a back yard.
There, several nooks had a distinct Mediterranean flair.
Only the round Chianti bottles which so often trail from wooden beams in Italian restaurants were amiss.
You could sit near flowering Hibiscus and Strelitzias on its garden terrace, while shade giving vines grew above your head in summer. More lush greenery was by the end of this terrace. Small tables were decorated in country style with festive white linen on top. All was part of a perfect frame to enhance any romantic lunch or dinner.
La Papaya at Christmas 2014
It was a group visit on a Monday while most of us had Vegetarian Tapas which we all shared. However, I also remember the delicious fish I had. It's depicted below.
Understated charm of Papaya Restaurant
There was nothing grand and impressive about Restaurant La Papaya. It rather reminded a very enchanting country inn, where delicious food and drink made a success of any Tenerife holiday.
Of course, there, are other restaurants for different tastes and budgets in the area. All are appreciated by holiday home in Tenerife owners and other tourists of South and North Tenerife.
Papaya health benefits
Return from Restaurant La Papaya to Tenerife restaurants to discover totally different eating places.
Please mind that the comment box below is meant to help others. In case you have a question or want to tell me something, kindly use this contact form.

Back to HomePage of the Tenerife holiday home insider
This site is protected by Copyscape