Self catering Tenerife apartments guide for secrets of locations.
Self catering Tenerife apartments are seldom encountered on a Tenerife banana farm, such as depicted beside of beautiful Los Realejos. However, self service accommodation exists on farms or in banana areas also. Los Realejos with its 37422 inhabitants is sometimes only a few steps away from Puerto de la Cruz and offers a perfect alternative to beach holidays. The farm shown is right on the border of Los Portreros township between Realejos Alto and Bajo districts.
Book last minute accommodation of Tenerife for renting now or later...
Discover selected offers of apartments for self catering in Tenerife with prices and photos, while some rental comes with free Internet and or allows dogs.
Luxury beach apartments Puerto de la Cruz
They are found under Apartamentos Bahia Playa Hotel opposite Playa Jardin. However, nothing is said about details of their self catering. I knew one apartment which was stunningly furnished with the tiniest details, such as a filter coffee machine. Otherwise, gym nearby, sauna, jacuzzi, Olympic pool under cover and outside. In short, luxury accommodation...
The detailed descriptions with photos of real estate locations by Puerto de la Cruz may help you to pick the perfect self catering Tenerife apartments for your final selection. Location is also important for rental prices to pay. This page on self catering accommodation complements accommodation of Tenerife North which takes the subject geographically further and concentrates on looks and other criteria.
What are self catering Tenerife apartments?
They are your keys to most flexible holidays.
Look at the photo depicted beside of a self catering Tenerife apartment to get an idea on this type of these Tenerife holiday lets... It is a studio apartment at the Tropicana hamlet San Vincente Los Realejos. The owner of this holiday home in Tenerife is a friend of mine. Perhaps, she will offer it for holiday rental one of these days.
Make out the typical Tropicana lounge with kitchenette... The tiny bathroom, adjoins a sleeping alcove.
Most self catering Tenerife apartments have individual furnishings and are not part of a franchising.
Tropicana San Vincente hamlet
Many self catering Tenerife apartments are found at the Tropicana of San Vincente in Los Realejos. Its apartments rows which were built on terraces are only to be reached from the top road. Parking is not an issue in this location. A car is needed to get around for best convenience. Very few shops in the small village San Vincente sell groceries but, are cheaper than those in Los Realejos Bajo, for example. One larger restaurant by the main road offers delicious Canary cuisine to give a break to self catering Tenerife apartments La Tropicana. Climb the steep San Vincente main road with a car and get your dog to rural Tigaiga on its right to give him some unknown holiday feel above high ocean cliffs. San Vincente is known for noteworthy holidays with interesting Spanish traditions, by the way. They give self catering Tenerife apartments a break, as free food is served during all its celebrations.
The Tropicana ocean view resort in  San Vincente Tenerife is breath taking. Therefore, self catering Tenerife apartments Tropicana fetch good sales and rental prices.
Best advantages of Tenerife self catering apartments
Self catering Tenerife apartments are fully equipped for self service on holidays,
while most have SAT TV besides pots and pans and much more
and often washing machines
Total control of who enters your holiday home
Easiest holiday living for following a special diet
at any time of day
Substantial financial savings to allow for longer vacations
for more than one person, above all
Much depends on where you locate self catering Tenerife apartments for successful holidaying in Tenerife. Pick the following location for happy dog holidays...
Los Realejos Romantica-2
Admire the front row of self catering Tenerife apartments Romantica-2 on the photo beside... Most of Romantica flats in in tiny bungalows. Few were built into the ocean cliffs, such as those shown. But many were constructed on terraces. Most were built to be studio apartments, as far back as 36 years ago. Not all were well maintained. Their sales and rental prices vary. They as well as their exact locations need to be seen to judge if they are expensive or cheap.
Romantica-2, which is about 1km from the Puerto de la Cruz border has its name for a reason.
Not only you will find this spot by the Tenerife north coast very romantic. An alluring ruin is not amiss. Your dog will love you when you rent one of self catering Tenerife apartments in this precious place. Dogs must not litter in clean La Romantica.
Let your dog roam around free by the intriguing, charming hiking path Rambla del Castro and by a gorge. Take him on a leash while on the Rambla path. From this so called Barranco reach a miniature beach as well as Puerto de la Cruz by Hotel Maritim. This will take you at least 20 minutes on foot. Romantica-2 has a tennis club. Its small restaurant serves simple, good meals to everybody, who want a break from cooking at their self catering apartment.
Eventual problem with Romantica-2
You need your own transport or a rented car for Romantica-2 from its lower situated area. Unless, you are prepared to walk up steep hills to the Los Realejos Toscal Longuera commercial center..There, attach your pet to poles by the many stores, bars or restaurant entrances. He can keep an eye on you from most of them.
Romantica-1
Your own transport is also a must for Romantica-1, unless you are extremely fit. You need it for pets also, as taxis and buses don't allow them. There is a beautiful gorge, but only goats can enter it. Venture down to the gorge bridge with your pet on an empty sloping land. Also, take your dog to San Telmo nature reserve for dog holidays from there... Other rural areas, close by, offer good excursion compromises for you and your pet. Of course, there is the Rambla for walks.
When I visited a friend in Romantica-1 for the first time in 2001 I thought she was living in a fairyland. She stays in one of the self catering Tenerfe apartments. Her home with perfect views to lush coastal greenery and ocean is a jam. She lives in a paradise of bougainvillea flowers and agaves.
How drive to Romantica-1?
Reach self catering Tenerife apartments Los Realejos Romantica-1 by following La Longuera. Mind that La Longuera turns right by a pine tree where Monturio road joins from the top. See a detailed photo of this at the bottom of page Toscal Longuera ...Proceed on La Longuera
road going straight until you spot the small sign of the former Bahia Parque Hotel now called Active Hotel...Turn right by the 2nd road after you passed it... Remember, it is a steep road and not the one before...
Bear in mind that both Romantica townships are joined with the shopping areas of Realejos La Longuera Toscal by climbing or winding roads... No buses go to La Romantica-1 and 2. By the way, I went to a New Years party at a large restaurant in Romantica-1 in 2008, where I didn't like the buffet much, except for red cabbage with porc and fried potatoes. Later, some of us were lucky to see a taxi. It carried us up the steep hill.
Some self catering Tenerife apartments are in Los Portreros Los Realejos. Their prices depend on style and size. Los Portreros is more of a quiet villa suburb, as such.
Find many self service apartments at the apartment complex Edificio Alfredo. The photo
shows it behind La Longuera with Montañeta Monasterio in the background. There is also a theological collage depicted on the Monasterio slope; foreigners always ask what the huge gray building is. Anyway, it looks too formal to harbor self contained Tenerife apartments. The apartments Alfredo are mostly flats with one separate bedroom and a small balcony. It also has a small garden and a pool. Sale and rental prices there are not the cheapest but, you may be lucky, while Tenerife is in recession.
More apartments in this hilly suburb are being finished off up the road from the house for self serviced apartments called Edificio Alfredo. Locate them by the new connecting street of Puerto de la Cruz to old main road La Vera. Their construction was started before the recession had begun in 2008. I have some recent photos, which show the building cranes on them. Take your dog to a lovely little park in the newly constructed area by Los Portreros for dog walks.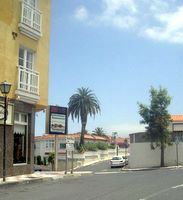 How drive to Romantica -2 or Los Portreros?
The photo beside shows La Longuera turn offs to help you find locations for self contained Tenerife apartments for Romantica-2 and Los Portreros. The climbing road goes to Los Portreros. The one opposite leads downhill later to Romantica-2. Watch out for those slightly hidden streets. They are by a large, modern, red corner apartment block with many shops on the ground floor.
How get to those turn offs?
Reach this cross road by driving up the Longuera road from Las Dehesas or from Hotel Maritim. Take the option to turn left into Los Portreros before or after the Shell service station.
Self catering Tenerife apartments La Vera
Los Realejos la Vera has many faces. It is a Spanish suburb, where self contained apartments are seldom. There are some near El Monasterio Tenerife amusement park. Small fincas (farmsteads) where bananas and flowers abound, are also in and around La Vera. Very few of them have apartments for holiday rental. I saw a few self service apartments within a beautiful stately La Vera farmstead, whose names I will ad, when I remember them.
Apartments Realejos Alto
Self contained Tenerife apartments for holiday rental are rare in the town of Los Realejos Alto. Most have 2 and more bedrooms, when accommodation is available. There, the problem is parking for cars, above all. Numerous public bus lines connect, though.
Also, temperatures in Los Realejos Alto are at least 3 degrees cooler than in Puerto de la Cruz. Rather pleasant in summer, you know... Los Realejos Alto is not ideal to pick a self contained apartment for your dog holidays. The exception would be to find a self service flat in one of the farms. I was surprised, how close they are to the built up town, off lately. When you are on top of the road Avda.Canarias Los Realejos, you see some farmsteads as well as their closeness to the pine forests below Teide.
Realejos Bajo Toscal
This is a Spanish township with quite a few self contained Tenerife apartments. They are not cheap on sales or on holiday rental. Reason being is that the whole district of Realejos Bajo is very cosmopolitan due to many northern Europeans, who also fancy the Romantica hamlets, Los Portreros and La Longuera, on principle. Its convenient closeness to beaches, Puerto de la Cruz, infrastructure and much more is a big plus.
Less self contained Tenerife apartments are found around Puerto de La Cruz in Los Realejos regions, except for San Vincente and Toscal La Longuera and the Romantica hamlets.
Palo alto and similar Realejos mountain regions
Many of those places are also near Realejos Cruz Santa. Some holiday home villas, some of which provide self contained Tenerife apartments, are there. They were built within the last 10 years. Some of that rural accommodation, which I have seen is quite beautiful
Two apartments 1 or 3 bedroom Los Realejos Icod el Alto
property rental of 1 bedroom for self catering at Icod el Alto
rental of cozy 3 bedroom apartment 25 min. by Puerto de la Cruz
Look up distances by car from Puerto de la Cruz in the following list to get an idea, how far relevant self serviced Tenerife apartments might be away.
Realejos Alto: 15 - 25 minutes
Realejos bajo: 0 to 10 minutes
Realejos Bajo Longuera Toscal: 5 - 10 minutes
Realejos Bajo La Romantica-1: 13 minutes
Realejos Romantica-2: 10 minutes
Realejos Bajo Portreros: 5-10 minutes
Realejos San Vincente: 25 minutes
Realejos La Vera: 1 - 10 minutes
Realejos Palo Alto : too big an area to calculate
Realejos Icod el Alto: 25 minutes drive from Puerto de la Cruz
Realejos other mountain villages: as above unsure
Advertise
...
Or learn advertising online which also includes useful tips for advertisement for dog holidays, as there is such a high demand for them...
Self catering studio
Tenerife
Check out this Tenerife self service studio... This self catering apartment by Puerto de la Cruz is officially in Romantica-2, but practically just off La Longuera in a very interesting location. Sorry, not suited for dog holidays...
Please, return from self catering Tenerife apartments to Home
...
Please mind that the comment box below is meant to help others. In case you have a question or want to tell me something, kindly use this contact form.

Back to HomePage of the Tenerife holiday home insider
This site is protected by Copyscape