Former great Spanish house becomes environmental issue of history of Spain Tenerife.
Discover a rare environmental issue by looking below... This proto type farm estate which once belonged to picture book Spanish architecture is called la Gorvorana. It should have deserved the same fate like the country estate museum Abaco of Puerto Cruz. Imagine what could have become of La Gorvorana by comparing with Abaco photos, here. Both mansions were once proud landmarks of Tenerife North by Puerto de la Cruz.
Several parts of the typical Spanish house la Gorvorana are still adorned with picturesque, Terracotta colored Spanish roof tiles. Now, they portray a beautiful ruin of an ancient farm. La Gorvorana and its big community were one of successful Tenerife estates big and small during almost 500 years. Today, the Gorvorana finca causes an environmental issue for more than one reason.
Dog park at La Gorvorana?
Will that make the area cleaner. Indeed, it does. A friend and I paid it a visit on April 10 of 2016. It's been a great benefit for the location. The park has been officially inaugurated in March 2016.
It has fences to keep roaming dogs safely on its lawns. It has exercise equipment for the animals as well. It has a few bins to dispose of dog excrements. No entrance is charged. 

Tenerife patrimonio of history of Spain.
Francisco Gorvolán was known as a pal of the Adelantado de Lugo with whom he conquered Tenerife for Castille Spain which means the Spanish crown. Some time after the last battle against the Guanches on July 25, 1496 Capitano Gorvolán received land which was later known as La Gorvorana. It included what is today's Valle los Potreros, Los Portreros, la Longuera and Toscal. It ended by the seashore of Romantica 1 and 2 by the big
Los Realejos hotel near Loro Park.

This Tenerife estate of Los Portreros of early history of Spain Tenerife had done its duty for a prosperous healthy environment of fertile man made fields of sugar cane during the seventeenth and eighteenths centuries.
Bananas were planted when cane crops stopped to be lucrative.
Eventually, it fell more and more into disarray.
In 2001, the town of Los Realejos bought the problematic estate Gorvorana.  It totaled 10000 m2 then.  Good intentions to revive it were not missing for the important Tenerife patrimonio. Patrimonio means translated historic national heritage in this context.
Park Parque el Valle (valley park)
Part of the 10000 m2 estate La Gorvorana included rural El Bosque.  It was put to some good use, as depicted beside. A green lung called park Parque el bosque is there now.
La Gorvorana's roofs were ruffled badly by the last cyclone of 2010 called Xynthia, although it didn't do too much damage on Tenerife Island.
Now, only wild doves seem to inhabit La Gorvorana. Hence, it became kind of a "wildlife sanctuary" for the birds. They roost under its roofs. Bats and rats are certainly companions. This is not exactly a healthy environment for the preschool next door. This newest social contribution for young children had become one of major political issues for the 2011 Los Realejos elections because of the deteriorating La Gorvorana. 
Unfortunately, La Gorvorana Realejos puts its whole suburb Los Portreros with all its new apartment buildings and villas to shame. All this will become another Realejos tale like the one told about the intriguing Realejos ruin which is often mentioned with Tenerife history.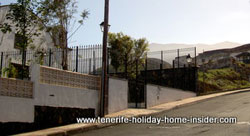 Los Realejos Ermita Gorvorana.
Discover the chapel Ermita la Gorvorana just a little below the farm Gorvorana by the main street of the same name... This tiny church had all the help to become a Tenerife national heritage site. However, not once have I seen its doors open.
News Realejos: "Environmental issue to be solved", said the Mayor in 2015.

Los Realejos is not an exception for being slow with historic restorations. Nevertheless, lets hope for the best.

Recession of the last years since 2009 left the town hall with much less funds. Repairing the monumental Gorvorana would certainly cost as much as €5 million. So much was needed at the time for a similar estate called Casa del Patio of Tenerife.

Besides, 3 more big historic estates which were bought by Los Realejos would also require much financing to convert them again into good national patrimonio estate.
Could La Gorvorana's problem have been avoided?
Perhaps, there was such a chance, at the right time before Recession started in 2009.
But then, not every estate offers as many options to make the best of it, as for example Meson  El Monasterio a special park of Los Realejos.
From environmental issue back to La Longuera Tenerife.
P.S. End of May 2011, I noticed that somebody decided to turn it into a monument of deplorable Spanish art. Part of the venerable old house is now covered with tasteless graffiti. Most vivid colors turn its entire facade by the park into one more mockery of an environmental issue.
Please mind that the comment box below is meant to help others. In case you have a question or want to tell me something, kindly use this contact form.

Back to HomePage of the Tenerife holiday home insider
This site is protected by Copyscape