Natural swimming pools with landscaping for Lido Martianez made Tenerife history.
Natural swimming pools as tourist attractions were what Puerto town planners had in mind to give the oldest Tenerife resort a boost. The tourism boom started in the middle of 20th century needed a novelty.
Engaged for the project was Cesar Manrique as architect, landscaper/designer who was famous in his home island Lanzarote.
Engineers were Juan Alfredo Amigo and Jose Luis Olcina.
The Lido was fitted out with 7 pools with a total of 8000 square meters, later expanded to 10 000. Initially, they were all shaped like a different Tenerife island.
Cesar Manrique's sculptures like the 'wind mill' were added as innovative accents for the natural swimming pools.
The Andromeda hall for dancing underground below sea level didn't only make the news head lines here but, was a world sensation at the time.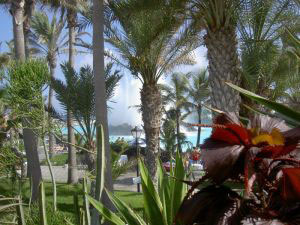 A large restaurant
was already added, back then. So were change rooms with showers and toilettes.
First inauguration
of what was envisioned as a Lido Martianez for entertainment was April 30th.of 1977. It was a much celebrated Tenerife event, when many celebrities and politicians from main land Spain were present, as well.
Natural swimming pools as big progress for tourism
A mile stone in
history of the oldest Tenerife resort had been reached by the Lido Martianez pools. Indeed by 2014, millions of happy tourists had visited them
Many of the visitors came from main land Spain because, summers there are rather hot right through the night.
Cesar Manrique's landscaping with all the subtropical trees and plants provided a welcome refuge for those worst of all July and August weeks.
Much later, history would repeat itself. Tourism would need a better and bigger lido. Transformation of the pools started in 2004.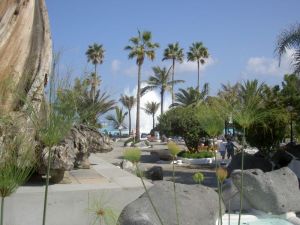 A sensational fountain in the main pool
The Dutch branch of the international company Philips were engaged to see to the illumination of the pools. A large fountain, a jacuzzi, more water playground equipment for kiddies as well as a heated pool was on the agenda which was followed through.
Famous Taoro Casino added to the pools
Also, a new idea made
history Tenerife which meant to incorporate Taoro Casino to the Lido which was for a long time in the quiet, prestige suburb Parque Taoro . It would be more practical to have it where the bulk of tourists was which by now also spent more money on slot machines. Taoro Park could be used for something different. Casinos were not only for the upper 10 000, any more.
However, not enough space would be found for those as well. Therefore, they are found by the little ice cream kiosk just a few meters from the natural swimming pools, today. There, the machines have their own big building and may easily be entered from everybody passing by.
4 American gambling tables for roulette as well as 4 card tables are below ground under the pools.
The name Lago which means lake in Spanish was by now engraved in the mind of Puertocruzeros (people of Puerto de la Cruz). Even after renovations where the image of the 7 islands almost disappeared, everybody in town kept on referring to the lido as the town lake.
New and better natural swimming pools at Martianez
The renovated pools of the Lido Martianez of Puerto de la Cruz were opened to the public again on 6th of August 2006.
From Puerto Cruz natural swimming pools back to Lido Martianez Tenerife.
Please mind that the comment box below is meant to help others. In case you have a question or want to tell me something, kindly use this contact form.

Back to HomePage of the Tenerife holiday home insider
This site is protected by Copyscape