Tenerife Carnival secrets and tips to help you fight recession in 2009
Secrets on great Carnival savings by  the Tenerife capital.
Tenerife Carnival 2009 used of 120 unemployed Chicharreros (inhabitants of Santa Cruz) besides the usual members of groups of the mad season. All were trained and supervised to help with preparations late in 2008.
The jobless locals most of whom belong to groups learned to make Carnival costumes besides
other celebration skills.
This and more strategies will contribute to savings of about
50 % compared to previous quotes. This was said sometime ago in
Canary Island Television.
However, the theme Cinema Classic Horror Movies was, certainly, the
best idea, besides use of
unemployed labor and other means
to save on Carnival costs.
Mind, the news are that more
money will go into subsidizing carnival groups whose
fancy dress costumes are
expensive to make.
The general 2009 Carnival motto Santa Cruz Tenerife
Cine de Horror (Horror Cinema) will, surely also, benefit all locals as well as tourists to save money. The Tenerife queen of carnival 2009
displayed one stunning dress whose design related to a witch according to the horror theme. She was also the first carnival queen whose forefathers are not all Iberian or of Tenerife origin who was ever elected on Canary Islands. However, no racism related results objecting to her crowning were heard...
Top tip for cheap Carnival horror disguise
Look at the outfit above, previously, worn by a mourner in a very simple black carnival costume.
This widower outfit of sorrow was for the Burying of the Sardine, a symbol of Tenerife Carnival liberty.
Complement your costume with black lace stockings like the guy in the image. Paint an outrageous, disturbing, temporary Tattoo onto your body.
You will look like coming out of the Rocky Horror Movie Show.
Obviously, this Carnival outfit in the photo was very cheap, although it has great style.
Why disguise motto 2009 may be a saving for Carnival madness in Santa Cruz de Tenerife?
8 tips for general scary carnival costumes
The right make up may render a spooky look
combined with cheap dark clothes.


Use color fast red blusher under eyes
to give yourself a monster gaze...


Find any of your old Halloween costumes...


Convert them for eerie carnival disguise...


Wear a different one on each and every
of the Carnival events...


Carnival costumes need not be expensive
for the theme of classic horror movies.


Much can be achieved with accessories like hats, masks, scarves, easy to make capes and black lace.


Don't forget that witches who figured in scary movies had brooms...
Find horror inspirations by the Movie Lord of he Rings!
All tips may help you for horror Carnival disguise in any place or country.
Noteworthy for Tenerife carnival
Mind: No intimidating Carnival costumes will be worn by
 Carnival queens. Every year a grown up lady as well as a young girl are elected as queens in different galas.
By the way, the Tenerife town Los Realejos selected recycling as their Carnival motto 2009.

What a good alternative to economize with carnival costumes!
However, it's to be expected that other Tenerife towns will follow the capital's example.
The strikingly beautiful Puerto de la Cruz carnival dress beside was made of recycled plastic of countless shopping bags and cartons, many years ago.
Hilarious! Isn't it?
All decorations for Tenerife Carnival streets, event halls, wagons and stage backgrounds are most likely to portray scenes from classic horror movies from
the past.
From Tenerife Carnival to hotels Tenerife  for Carnival holidays. Yours is an amazing choice by 30 different sites, all at once..
Private holiday home in Tenerife rental such as villas or apartments Santa Cruz for short periods are rare. Bear in mind that hotels with daily cleaning services are more practical for sleeping over in the capital during times of crazy disguise parties...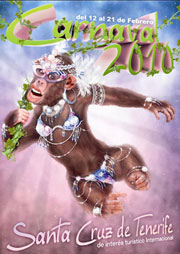 By the way, the Tenerife carnival 2010 motto became 'evolution of mankind'. Ironically, this latest poster seems to refer to the 'primate' Darwin theory. Young man Waldemar Lemanczyk Paz from Arico created by means of 3D and other IT design tricks the evolution of the ape to carnival monkey. Ha! Waldemar's Tenerife art was one of 50 works which competed.
Tenerife Carnaval with pictures
Find agenda for main Carnival events in the Essence of Carnival in Tenerife...
A chance to disguise yourself for one of the island's classic car shows as Marlene Dietrich, Josephine Baker, Greta Garbo, Al Capone, Doris
Eaton and many more celebrities of the roaring twenties towards the end of Tenerife Carnival, provided you have an antique car which can take part.
From Tenerife Carnival back to Carnival attractions

Please mind that the comment box below is meant to help others. In case you have a question or want to tell me something, kindly use this contact form.

Back to HomePage of the Tenerife holiday home insider
This site is protected by Copyscape