Hotel Panoramica Garden is one of best Tenerife hotels in its price class.
The 3 star La Longuera Hotel Panoramica Garden is semi rural. It overlooks a few bungalows of La Romantica 1 with its most famous hiking path Rambla to Casona Castro and beyond. This hotel enjoys a quiet locacation, as it is set back from the main street. Also, the commercial hub is at about 200m from the holiday resort.
The hotel pool is big and allows for a proper work out or relaxed swimming.
This holiday resort of Realejos in Tenerife North is a tall 12 or 13 story landmark which has the most beautiful views where nothing stands in its way to a stunning coast and Teide mountains. It is only between 2,5 and 3,5 km from Puerto de la Cruz beaches or from  Playa del Socorro beach.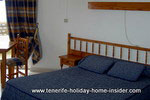 Book a studio or a hotel apartment with separate bedroom.
Hotel Panoramica Garden is conveniently located for getting around via the nearby TF5 freeway to the shopping village La Villa AlCampo with shops and malls and other big shopping centers. The mountains or coastal roads are easy to reach. Several superb sports amenities are in its neighborhood as well as health care of all sorts. Parking as well as bus lines are not amiss.
During the winter months from November until March, most of its guests are pensioners on short vacations from mainland Spain who spend all day sightseeing on Tenerife tours.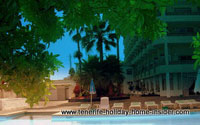 Therefore, you will find few by the hotel pool.
Hotel sports facilities
A children playground is adjacent to the main garden, while the large pool for swimming which is heated in winter has a park-like surrounding, where refreshments are served.
The following sport amenities are available for a fee
Badminton (tennis)
Tabletennis
Bowling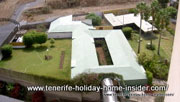 The main garden also has a large wintergarden, which detect by the white roofs in the picture beside.
You can have these gardens almost for yourself as they are a little hidden, and tourists seldom know that they exist.
Meantime, they can be accessed from the pool and from the first floor.
This part of the hotel can also be hired for functions, just like a very large glassed in reception room by the sports courts.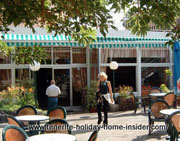 By the way, the outside veranda of this Los Realejos Hotel is adjacent to the restaurant and is popular all year round.
This buffet hotel restaurant for breakfast, lunch and supper is open 3 times a day.
There is even a discoteque within the hotel for special occasions.
Organic vegetables, chicken and eggs needed?
All accommodation is self catering Tenerife.
This means that you don't only have a restaurant for your convenience but, also an American kitchenette, which has everything which is important. Just in case that you are on a special diet or you want to serve your special dish to your loved one, you know... You can even cook your own organic vegetables which can be delivered to you. Contact us if you would like that and I can help you to set it up.
Otherwise there is hardly anything which you will not get in at the hub of Longuera of Toscal Realejos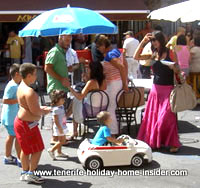 La Longuera also stands for the novelty business idea to help recession as well as for a new trend within the context of the warm and welcoming Spanish life style.
That's the reason why so man British, Scandinavian and German expats love this neighborhood of the Hotel Panoramica Garden.
The Panoramica Garden hotel of Los Realejos is one of the hotels which runs daily hotel buses to the Puerto de la Cruz regions, more information about which find here... This Realejos hotel is constantly improving its looks, standards and even services. This is rare since the 2009 recession. Off recently, a sculpture fountain with a Grecian scene was added near the pool bar.That water feature is the only sore point of the entire complex,  in my eyes.

Distances to attractions and airports from Hotel Panoramica Garden
North airport: 25-30 minutes, except rush hours
South airport: 90 minutes via Santa Cruz
Teide: 90 minutes via La Orotava
Loro Park: less than 10 minuntes
Lago Martianez: about 15 minutes
Playa de las Americas: 80 minutes
Santa Cruz: 30 minutes
El Monasterio Montañeta Tenerife rural park: distance 12 minutes by car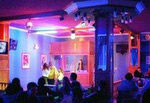 By the way, there is even a discoteque within the hotel Panoramica Garden for special occasions.
From Hotel Panoramica Garden back to Los Realejos Hotels for all budgets
Please mind that the comment box below is meant to help others. In case you have a question or want to tell me something, kindly use this contact form.

Back to HomePage of the Tenerife holiday home insider
This site is protected by Copyscape