Tenerife Easter tourist guide

Tenerife Easter ends the fasting of Cuaresma with its last victorious day the Sunday of Christ's resurrection. This is just one day of an entire  week called Semana Santa Holy Week which represents the Spanish Easter on the biggest Canary Island. The Cathedral mass in La Laguna on that Easter Sunday that's followed by its own procession is very special, of course.


Easter in Northern Europe is different, though.
There, Easter Sunday is the main Highlight with the Pope's worldwide televised blessing, concerts in city parks and in TV. Many in Germany and in the UK enjoy a festive mass with women and girls in new Summer dresses after a Winter with ice and snow while chocolate- eggs and delicious bunnies are hidden in gardens for the children, afterward.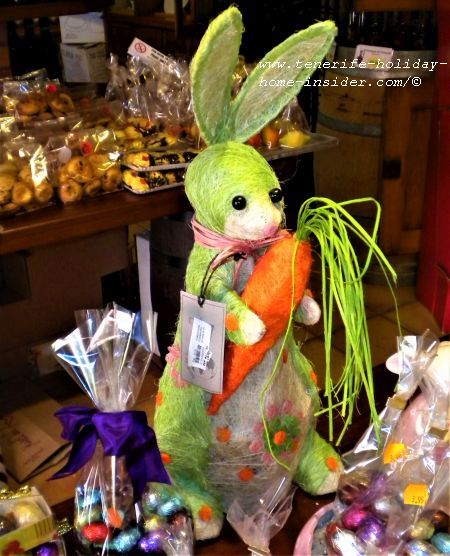 Tenerife Easter with the bunny as a symbol of a Pagan past of worship of Spring, fertility, and honoring of the Goddesses of the Equinox
Also there, Easter Monday is for more partying but,  not a religious feast. However, Monday is not an Easter holiday anywhere in Tenerife and Spain.

Tenerife Easter Tourist attractions
Tenerife of the Canary Islands together with other provinces of Spain and Portugal as well as Spanish and Portuguese speaking countries share similar Roman Catholic traditions.
However, those of San Cristóbal de La Laguna in its old quarters with the island's cathedral are so spectacular and captivating that they have become tourist must-see events.

Added bonus of Easter shopping for treats
The Monasterio treats are very varied and of outstanding imported quality. Of course, malls like Corte Ingles, Alcampo hypermarkets and supermarkets also offer sweet Easter temptations. Coviran in  La Paz Puerto de la Cruz the former Supermercado 2000 Spar sells outstanding Easter sweets and pastries to please its many German customers.

Traditional sweets where La Laguna excels
Then there are also rustic looking Monos de Pascua made with a yeast dough, filled with sweet cream and topped with hard boiled eggs for decor. They almost echo the traditional Roscones de Reyes Christmas cakes without the fruity taste, though. 

Traditional Tenerife Easter cuisine examples
Potaje de Vigilia the Soupe of Maundy Thursday made with Chick peas, Spinach and Bacalao Stock-fish, herbs and spices
Oven baked Sancocho with Fish like Burro or Cherne Salado served with Potatoes and traditional red or green sauces
Oven baked Pata Asada Pork Roast 
Burrito tender young goat meat made with a sauce of white wine and seasoned according to taste
Roasted lamb is less common, contrary to Portuguese customs

The all time favorite Pork chops called Carne de Fiesta for Tenerife barbecues  

Tenerife Easter parties
Elaborate Food and family parties are very important after the long period of Catholic fasting after Ash Wednesday. Some prefer pick nicks in recreational parks where best North Tenerife barbecue facilities are given, such as at the Caldera de Aguamansa or the Barranco Ruiz park by the Coastal Road above Playa del Socorro. Playa de Las Teresitas and Hotel del Duque Beach barbecues are not uncommon.
Historical scenes of the Semana Santa days of Christ
Portrayed above are pictures without scenes of brotherhoods, brass bands and dignities of clerical, political and military nature which find under Spanish customs

Tenerife Easter history
The custom of Catholic Easter processions originate from mainland Spain, Portugal and Italy as well as the Vatican, above all. Long ago, Europe fused it after many disputes with ancient customs that honored the Goddess Eastre of Great Britain Celts or Ostera of Germanic tribes as well as deities of neighboring people. The worshiping took place around the day of the first Full Moon of the Northern hemisphere. Way back, this was not always between March 22 and April 25, as it is now.
 Otherwise, Pascua Sunday or Pascua Florida coincide with the Jewish one-week-long Passover also known by the same name.
Other related links of Easter
Easter Week photos from Los Realejos
Tenerife Easter Adeje street theater 

From Tenerife Easter back to La Laguna with many photos that complement the Roman Catholic culture of the entire island
About an ancient Britain Easter Calendar and more

here
Please mind that the comment box below is meant to help others. In case you have a question or want to tell me something, kindly use this contact form.

Back to HomePage of the Tenerife holiday home insider
This site is protected by Copyscape